No one would ever buy a hideous looking cat for $1500, right? Well, you're wrong. The guy whose hair was brighter than the sun and had an immense love for Rachel did. Yes, I'm talking about none other than Gunther whose last name is…Central Perk according to Chandler.
In addition to managing the café and staring at Rachel, you might wonder who the real-life Gunther is, and what is he doing as of now? Let's get to know more about the man behind the counter, James Michael Tyler.
James Michael Tyler Lost Parents At Young Age
Born on May 28, 1962, in Winona, Mississippi, James is the youngest of five children. When he was only ten years old, his father, who was an Air Force Captain, passed away, and the very next year his mother did.
After the unfortunate incident, he moved in with his sister in Anderson, South California. He graduated from Anderson University with a 2-year degree in 1982 and from Clemson University with a degree in geology in 1984. His interest in becoming an actor sparked when he became a member of a student theatre group, the Clemson Players. He received his Masters of Fine Arts from the University of Georgia in 1987.
In 1988, he moved to L.A. and became a production assistant for Fat Boy and Little Boy and an assistant film editor.
James Michael Tyler's Breakthrough as Gunther in Friends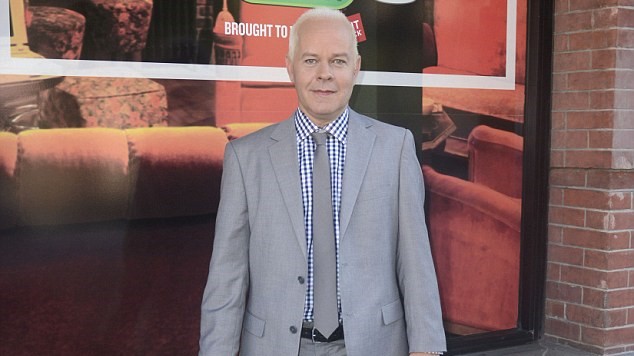 So, no one told you life was gonna be this way? Your job's a joke, you're broke and your love life's D.O.A.
I can't be the only one who thinks this line is a perfect fit for Gunther? C'mon the guy had been managing the café for ten years; he was living with a female roommate and had an immense crush on Rachel Green but couldn't do anything about it. The line screams Gunther!
James landed the role because he was the only extra who knew how to work the espresso machine. He was asked to be an extra for the day and was given free food and $40. The 57-year-old played this role from the very beginning of the show, F.R.I.E.N.D.S. (1994-2004) which was created by David Crane and Marta Kauffman.
He appeared in the show for all ten seasons with his peroxide blond hair. Although most of his roles were behind the counter, he managed to appear in 148 episodes of the show.
While many feel Janice is the 7th friend, we clearly think that Gunther is the more deserving character. If you don't agree, as Ross would've said it, you're an ezel.
James Michael Tyler's Life after Friends
After Friends ended, James has not been active in acting. He appeared in a number of films like The Disturbance at Dinner (1998) and Motel Blue (1999) and Jason's Big Problem (2010).
He has had cameo roles in T.V. shows like iCarly and Scrubs. He tried out web series scene with a show Keeping Up with the Downs and had appeared in the now non-existing series Modern Music in 2013. In 2012, he reunited with his Friends co-star Matt Le Blanc in the B.B.C./Showtime sitcom Episodes.
He is set to appear in a leading role in a drama short titled The Gesture and The Word which is set to release in 2020. He will be starring along Roxane Mesquida and Paul Dooley.
Even after playing some roles in various shows, Tyler will forever be connected to Gunther. To begin with, in 2006 he was part of a T.V. pilot called Nobody's Watching. During the 20th anniversary of Friends in 2014, he opened a Friends pop-up coffee shop in honor of the milestone of the show he even dyed his hair.
Who is James Michael Tyler Married To?
The 57-year-old has been divorced once, unlike "Ross." James married Barbara Chadsey in 1995 but faced marriage difficulties and the two separated in 2003. After a long period of 11 years, Tyler filed a divorce case citing "Irreconcilable differences" in 2014.
He seems to be single ever since the divorce.
Unlike most of the cast of Friends, the actor has his own personal social media account and is active in both Twitter and Instagram.
The blonde coffee maker has an estimated net worth of $500,000 as of 2019.
Do you think our lovely old Gunther will finally get another big break in The Gesture and The Word?