Israel Houghton Divorced his wife Meleasa? Will this affect his Net worth and Career?
Israel Houghton Divorced his wife Meleasa? Will this affect his Net worth and Career?
It is a shock when people come to the state of breaking marriages, but even a bigger shock when a wedding for a very long time sees it end. Israel Houghton divorced his wife Meleasa Houghton after a marriage of twenty years.
It's really sad to see the couple divorcing after spending the marital life for around two decades. So, what went wrong in between the couple? Read the full story here.
Israel Houghton Divorced Meleasa Houghton
Israel Houghton, whose age is 44 years has filed divorce. He and his wife were living separated way before the official proceeding took place. Parents of three kids Israel and Meleasa just did not want to stay together is what the sources claim.
However, ironically Israel stated in the media that they both would continue to be "good friends" being "mature people" for the sake of their children.
Israel Houghton's career affected after divorce
Seems like the lady luck going away from Israel cost him high time because as he divorced his wife, the singer was placed on an "indefinite leave" in his position as the worship leaders for Joel Osteen's Texas megachurch. And now he is no longer with Church (He served in this post for 5 years.)
Israel Houghton has received several awards including the Grammy Awards Gist mp3bullet
The reasons are pretty clear- his divorce and the cheating rumors. Infidelity did cost Houghton high time because this has not only affected his long-time music career but rapidly brought down the net worth of Houghton as well.
Israel Houghton's net worth
Houghton has a net worth of $8 million after working very hard as a musician, worship leader, singer, and songwriter. Houghton who is known for albums like Power of One, Love God love people was born in Oceanside, California during 1971.
Israel Houghton Source:n GodTube
His Christian music is famous all over the world because of his mixing that includes gospel, jazz, gospel and rock styles.He is a popular name in the industry; after all why not? He has won five Grammy Awards, 13 Dove Awards, two Stellar Awards and a Soul Train Music Award.
Israel Houghton and Adrienne Bailon
Israel Houghton met Adrienne Bailon during the filming of I'm in love with a church girl, and that is when the chords struck. After a month of his divorce, Israel and Adrienne were seen getting cozy in Tulum, Mexico where both of them were apparently holidaying together.
The couple dated for around six months before tying the knot on 11th November 2016. They got engaged in August 2016 with $750,000 Ring In Paris.
[ CAPTION: Israel Houghton Divorced his wife Meleasa ]
[ SOURCE: Instagram ]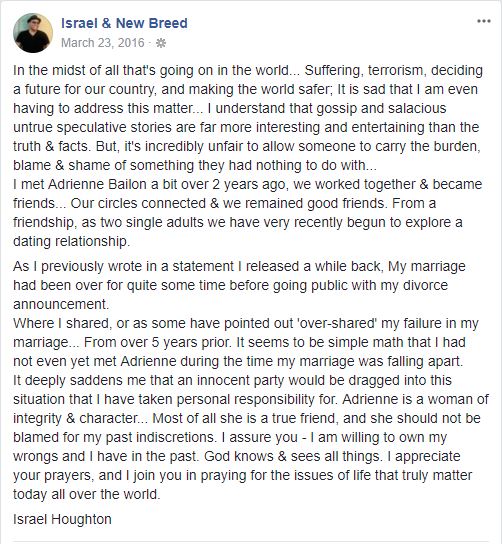 [ CAPTION: Israel Houghton Divorced his wife Meleasa ]
[ SOURCE: facebook ]
In all of this, there has been one thing that is interesting- Israel has gone on a record to claim that Adrienne has no role in his divorce but then his Facebook post tells a completely different story.
The front of Israel and New Breed; Houghton was the reason for his divorce and cheating his wife on his girlfriend Adrienne- this was the news everywhere, but Israel very "calmly" on Facebook posted that Adrienne was NOT the home breaker. Hmmm..