Is MJ Javid married? Or is she dating? Get to see her slimmer figure as well
Is MJ Javid married? Or is she dating? Get to see her slimmer figure as well
Often celebrities change them completely after getting into fame. Mercedes Javid is a reality star who is a real estate agent and co-star of hit Bravo reality show Shahs of Sunset who life got similar after fame. One of the wealthiest real estates in Hollywood, Javid got into the fame overnight after she did a reality show Shahs of Sunset.
Recently Javid hit the with her dates and some few pictures that she posted on her social media account. MJ grabbed lots of attention and you might be eager to know who is she dating in recent days?
MJ Javid shows off her slimmer figure
Change is good and when it comes to changing yourself than its lot better. Mercedes Javid is recently slaying the Instagram with her smoking hot looks. MJ Javid who was kind of chubby in her past years uploaded many of her pictures in a swim suit and yoga pants with a slimmer figure.
MJ, 44 is committed to her healthy life as she is in better shape than in past. MJ had slimmed down 22 pounds and in an interview, she revealed that after losing weight her life has completely changed.
Mercedes 'MJ' Javid, source: Daily Mail
As Javid is in better shape, you can see her posting pictures of her showing the gorgeous body. MJ began working out and eating healthier under strict schedule in this year.
Judging from her Instagram post, MJ's favorite go-to-activities include "hiking, walking uphill, interval-like sprints and much more. MJ also revealed that the main thing about getting into shape is that it makes sex better.
Well, guys, nothing is impossible and if you are thinking of losing weight by hitting the gym, MJ can be your inspiration.
With her wedding rumors around, is MJ working hard for her marriage?
MJ Javid love affairs and her dating history
Despite being 44 years of old, this Iranian beauty looks like she is in her 20. If we look at the dating history of MJ, she has dated only one guy named Tommy Freight. If you watch Shahs of Sunset reality show you will be familiar with this couple.
We have seen the love chemistry between MJ and Tommy in that show and once they even went through fertility testing in order to plan for their future plan. They are in a relationship for sure.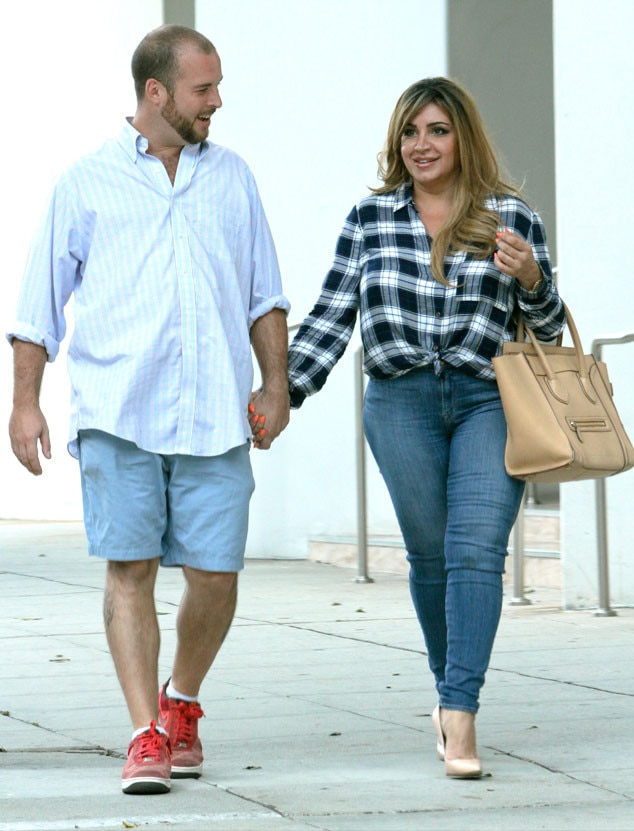 Mercedes Javid M and Tommy Feight, Source: E! Online
According to sources, this duo met on Tinder. Tommy is the Marketing Director for Blow which develops technologies to monitor crimes. There are facts about Tommy which are pretty interesting.
Surprise proposal: Mercedes 'MJ' Javid was proposed to by boyfriend Tommy, source: Daily Mail
MJ got more reasons to be happy as her long term boyfriend proposed her at a graveyard. Javid was over the moon when her man got on his knee and proposed with $8500 ring.
'MJ' Javid and Tommy, source: bravotv.com
But in 2016, MJ talked about her split via Instagram raising question are they still dating?
Last week, Tommy & I were really going through it last week and it isn't easy to watch. Every relationship goes through ups and downs but I'm learning how to check my ego at the door, and learn relationship tools to be a strong and better woman.
However, things got cooled down and the love birds got together. Hope in near future, they get married soon.