A renowned Australian actress Rose Byrne has been in a relationship with American actor Bobby Cannavale for a long time now. Rose recently addressed Bobby as her husband, so are they married? They also have children together.
After Rose claimed Bobby as her husband, people are now surfing around to know about their current relationship affairs. Are the couple married or was that just a joke? Have an exclusive look on Rose Byrne's relationship status with Bobby.
Are Rose Byrne and Bobby Cannavale Married?
Well, we all know that Byrne and Cannavale are one of the most talked about couples in Hollywood history. The duo started dating since August 2012 and are still happily living together. As mentioned earlier, in an interview with ES Magazine, the actress referred to Bobby as her 'husband' several times.
CAPTION: Rose Byrne with her husband Bobby Cannavale
SOURCE: Instagram
Well, this compelled the interviewer to ask if they were married. She then replied,
He's practically my husband, so calling him that is easier
She replied:
"The formality isn't a draw for me, but we'll do it one day. Once you have children, I just think, why not? It would be great if everyone in Australia could get married though [gay marriage is still not yet recognized under Australian law]. What's the hold-up? Get with the program, Australia.
CAPTION: Rose Byrne
SOURCE: Instagram
However, the couple has not been officially married. But looks like they still treat each other as spouse. But Bobby was once married to Jenny Lumet back in the year 1994, but they later separated in 2003.
Rose Byrne and Bobby Cannavale's children
Now that we made it clear about Rose and Bobby's relationship status, let's move on to their children.
Their first son was born on 1st February 2016 and is currently 2 years of age. Rose keep on taking her son, Rocco to stroll around their city. Back on September 22, 2017, the couple was seen hanging out with their son and with Rose carrying her second baby in her belly.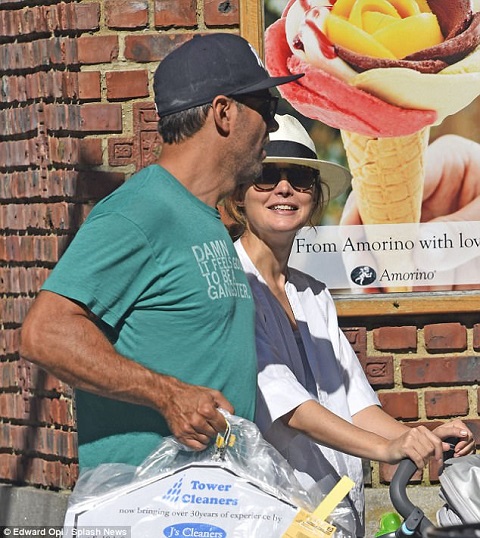 CAPTION: Rose Byrne with her husband Bobby Cannavale and their
SOURCE: Daily Mail
As she was with the big belly around the September 2017, it is obvious that the couple has welcomed their second child as well. Once in an interview, she was asked about how she felt while working during her pregnancy, she said,
Everyone was very sweet on set today, and you always get a little bit more attention when you're pregnant, which is fabulous.
Now, she has already given birth to her second child but the details of the second baby, including his/her name, are not publicized anywhere.