Who is Ice Cube's mysterious wife Kimberly Woodruff?
Who is Ice Cube's mysterious wife Kimberly Woodruff?
Ice Cube is perhaps one of the biggest names in Hollywood, with his career spanning decades and covering almost every possible aspect of the music industry. He's been a film-maker, a rapper, an actor, you name it. And his success is pretty evident from his whopping net worth of more than $120 million dollars.
So, what exactly could be his secret to such a successful life?
Well, just like they say that behind every successful man there is a strong woman, behind Ice Cube and his amazing career there is his wife, Kimberly Woodruff.
Kimberly Woodruff and Ice Cube's love story
Kimberly Woodruff was born in September 23, 1970 in California. Her early life and family history has not been made public, so the Kimberly Woodruff that we know started her story when she met Ice Cube back in college. Ice was immediately smitten with Kim from the moment he saw her. This was way before he became the household name and the superstar that he is today.
But like every great love story, theirs also had a slight hiccup. Kimberly was unfortunately not single at the time and was definitely not interested in Ice. He mentions in an interview saying,
"The first thing I thought I was, 'Wow, she could be your woman.' The first time we met, she wasn't feeling me, she was not having it. She did not dig me. I think she was in a relationship, so she wasn't having it.''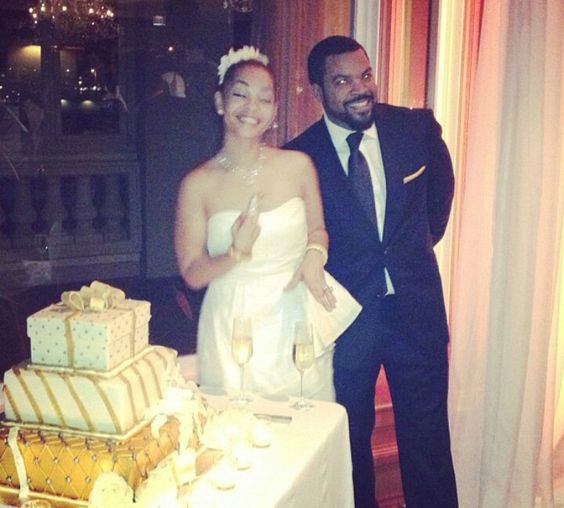 But the universe does work in mysterious ways, as about six months later after Ice had his heart broken; he crossed paths with Kim again. And this time she took an interest. They started dating in 1988 and by 1991, they were engaged. Ice and Kimberly finally tied the knot on April 26, 1992.
In an interview, Ice Cube shares his story of how he proposed to Kimberly.
"I don't know if it was considered romantic. I had bought her a new car [a BMW 5-series] and when she went to sit in the car, there was a ring sitting on the seat."
Because who needs a man on his knees with a ring when he can just flaunt it in a new car, right?
Ice Cube's career and family life
Ice Cube's career definitely began to take off in the late 80s and early 90s. His EP, Kill At Will, was the first ever hip-hop EP to go platinum. This was followed by several other musical successes that have defined his career throughout. Along with his album releases, Ice Cube was also starring in movies.
One of his first ventures was as Doughboy in John Singleton's Boyz n the Hood in 1991. But despite his hectic professional life, Ice still found time to be a family man.
Kimberly and Ice Cube had their first baby, O'shea Jackson Jr., named after Ice Cube's real name, in February 24, 1991. This was actually before they were married. They had three more kids after that, with son Darrell in 1993, daughter Kareema in 1994, and son Shareef in 1996. Kimberly and Ice's oldest son O'shea actually grew up to follow in his father's footsteps as an actor and a rapper.
In fact, he was the one who played the role of Ice Cube himself in the megahit 2015 movie Straight Outta Compton.
Secret to Ice and Kimberly's blissful married life
Usually when it comes to famous people, we always see them or their family members jumping to be a part of various reality shows, don't we? We have shows for wives of footballers, of hip hop artists, or just rich people living their oh-so glamorous lives in LA. But what sets Kimberly Woodruff apart is that she has never used her husband's fame as an excuse to squeeze an extra amount of screen time on television.
Sure, we see her every once in a while in red carpet events or other Hollywood events accompanying her husband, but Kimberly definitely has never been the type to allow herself to be in the limelight. And maybe it is this headstrong attitude and genuine support that has allowed Ice and Kim's marriage to be so successful.
I mean, they've been married for almost 27 years now.
Ice cube definitely seems to agree with the sentiment, as he never fails to mention and flaunt his amazing relationship with his wife during interviews. In Rickey Smiley's morning talk show, Ice Cube talks about his wonderful wife and how good communication is his secret to a happy marriage. Cube says,
"It's a true partnership. I respect my wife and she respects me. I still get the butterflies when I see her."
And how do Ice Cube and Kimberly maintain such a happy communication flowing? He thinks it has a lot to do with her culinary expertise. Yep, the way to a man's heart, or at least ice Cube's heart, is definitely through his stomach.
He mentions in an interview that he doesn't mind lending a hand for the meals but,
"she's the best cook. It'll be like if she went to make a record. We just both do what we're best at."
Ice drops another one of his relationship advices by expressing the importance of spending natural time with one another.
"I like to hang out with my wife, talk about things, get some coffee, you know?" Sometimes just understanding where the other person is coming from is helpful to getting along and being happy."
And this coming from a man who has been married for almost three decades, we can't help but take heed to his words.
Sources
https://www.thefamouspeople.com/profiles/kimberly-woodruff-32988.php
https://www.urbo.com/content/after-24-years-of-marriage-ice-cube-offers-advice-on-how-to-have-a-successful-marriage/
https://www.dailymail.co.uk/tvshowbiz/article-5769859/Ice-Cube-proposing-wife-25-years-Kimberly-Woodruff.html