Ian Ziering was Cheryl Burke's least favorite partner in DWTS. Says he made her want to slit her wrists. Oh My God! That's harsh.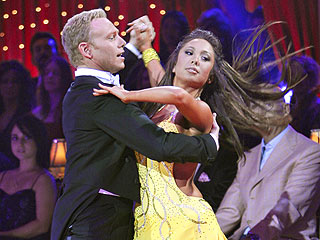 Burke shares why Ziering was her least favorite in Dancing with the Stars. Burke had appeared in not only one or two, she has arrived in the show for goddam 18 seasons and enjoyed a lot of partners. However, she mercilessly said he made her want to slit her wrist for some reason.
She cleared that Ian is the one she chose and it was her horrible mistake. Now she is speaking out loud about why she loathe Ian as a partner at all. She confessed on Matt Weiss and Theo Von's "Allegedly" podcast via TMZ.
"The fact that is name is not EE-AN and it's EYE-AN makes me want to throw up." She said.
Cheryl recalled that when Ian was on celebrity Apprentice with Donald Trump, he revealed his true self.
"That's the true colors that they didn't show on Dancing With the Stars," she shared before the hosts described him as "captivating" and "very intense."
"Think of spending time with that for like eight to 10 hours a day, seven days a week for three months," Cheryl exclaimed. What??
The frustration was so clear on her voice when she shared about all of it.
In the exact words of Cheryl about how he felt being in the show as a partner with Ian and how much it sucked.
"It made me want to slit my wrists. I was like crying to executives. I was like is there any way to please to just eliminate us? They're like we can't. We can't do that and I swear, every time I asked, we just kept going. We would last till the end."
Whoa! That's not pretty at all.
Watch the video of them dancing