The very stunning and talented Irina Valeryevna Shaykhlislamova is a Russian model popularly known as Irina Shayk. The 31-year-old Russian model received an international recognition in 2007 when she became the exclusively contracted face of Intimissimi lingerie.
Apart from her own stardom in the public, Irina got a huge number of fans following due to being a partner of the very famous Portuguese footballer Cristiano Ronaldo with whom she was in a relation for 5 long years. Recently, Irina has shown her boldness shot naked for the Reply Jeans Campaign and has attracted everyone's attention towards herself. Let's find out more about the fact.
Hot model Irina went topless for Replay's Jeans Campaign
Well, it needs to be audacious to shoot bare, however, it is almost like a normal photo shoot for the Russian model Irina Shayk who has shot topless in the last December. The world's top model got racy in Replay Jeans' latest campaign where she posed topless with two other top class models Joan Smalls and Stella Maxwell.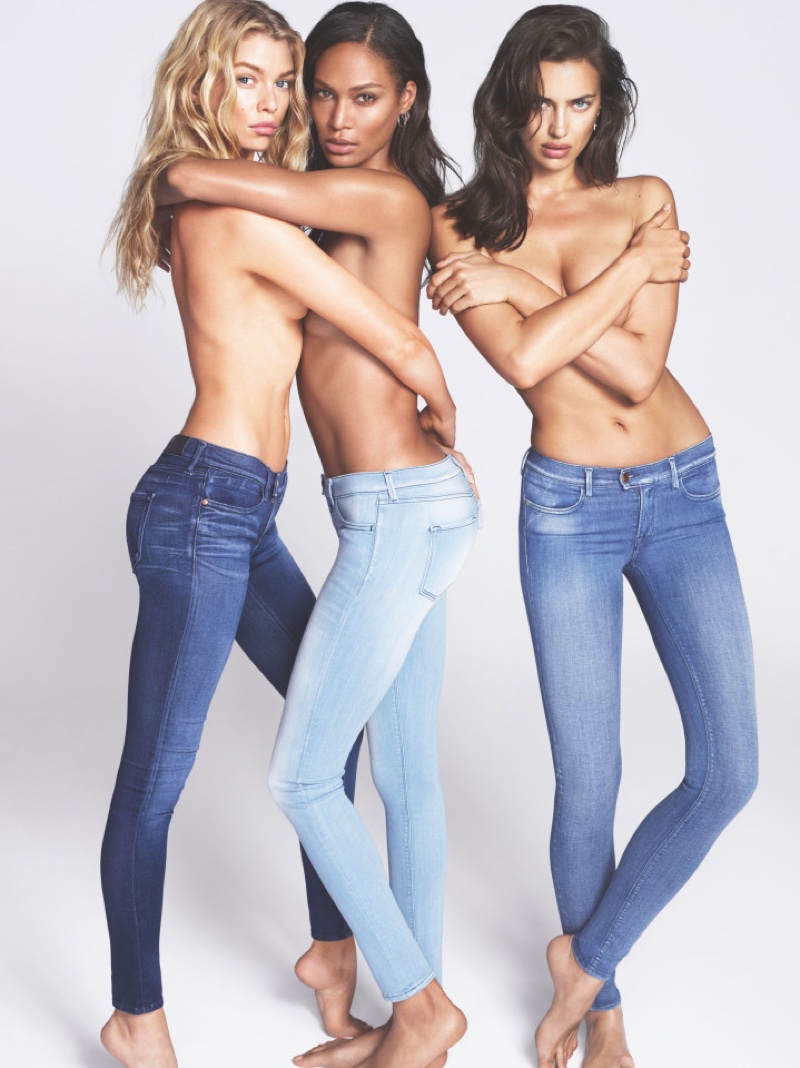 Irina with Joan and Stella at the Replay Jeans' campaign
Source: fashiongonerogue.com
Hot Russian model Irina Shayk
Source: alchetron.com
Incidentally, the three models also walked in the 2016 Victoria's Secret fashion Show. The trio poses topless where they shared close embraces and the photo was shot by the photographers Mert and Marcus. In the photo shoot, the girls wore natural looking makeup and they were on the light-wash denim to inky black jeans.
Also See: Irina Shayk dresses up and dresses down.
Moreover: Is Irina Shayk pregnant? Find out her relationship with Bradley Cooper and Cristiano Ronaldo. Who is the Father?
Irina had also posed completely naked almost a year ago in January 2016 for Givenchy's New Jean Campaign. Previously, she was often seen just topless while she then decided to give a complete bare pose. She looked absolutely stunning in the shoot she gave with a male model Bradley Cooper.
Irina's relation with footballer Cristiano Ronaldo
While talking about Irina Shayk and not talking about Irina's relationship with Ronaldo, it won't be fair. So, let's know how she spent some romantic time with Ronaldo.
Must See: Cristiano Ronaldo Jr's Mother Couldn't Abort Him but His Father Was Nearly Aborted. Father – Son Relationship
The Russian model Irina and the Portuguese football star Ronaldo were in the relationship since 2010 to 2015. The couple started dating from May 2010 and after being in a relation for about 4 and a half year, they ended up their relation forever.
Irina Shayk and Cristiano Ronaldo
Source: dailymal.co.uk
They first met together in 2010 where they both were the model for the Armani photo shoot and they fell in love soon after. After spending five beautiful years with the footballer she decided to end her relation in early 2015. She later told she felt completely betrayed when she came to know Ronaldo was hooking up with someone other else.
You wouldn't want to miss this: Zinedine Zidane believes that Karim Benzema and Cristiano Ronaldo can help Real Madrid win