When we talk about men and masculinity, we often create a very misleading image filled with big muscles and chiseled jawline, extra macho features but no feelings at all. But is that it? Is that really what being masculine all is about?

False stereotype of masculinity. Source: Cartoon Network
In his new Channel 4 series 'Grayson Perry: All Man', Perry investigates the essence of being a man in 2016. Throughout the series, the artist joins three "ultra-male" worlds to witness how extreme masculinity is changing expectations of all men in Britain.
In the first episode as briefly accounted by the Huffington Post, he travels to north England where male suicide is highest in the UK - to spend time with a group of MMA cage fighters, including Alex, Colin, and Andy. He watches in sheer amusement as the men push their bodies to the extreme in the hope of defeating their next opponent. Alex, for example, doesn't eat or drink for 24 hours before a big fight to ensure he's the right weight.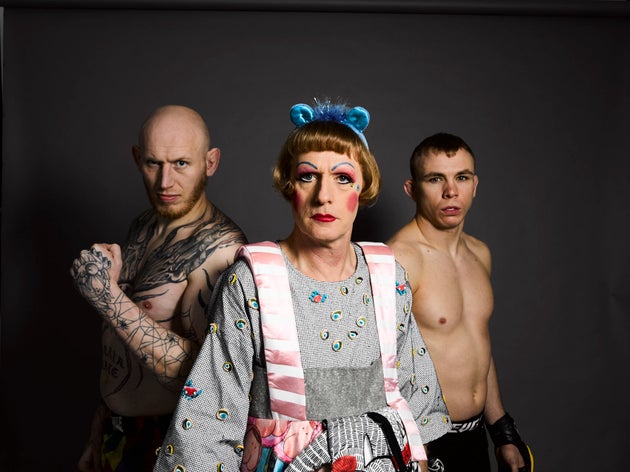 Grayson Perry's alter ego Claire with two cage fighters. Source: Huffington Post
Grayson soon realises that the intense training regimes and bloody fights are a way for the fighters to escape the pressures of everyday life and let go of their bottled up emotions.
"The people who look the hardest are not necessarily the hardest men," he says.
In the episode,he later talks with Thelma, whose son Daniel who ended his life at the age of 30. Thelma describes her son as "fun-loving" and "the life and soul of the party" and says his death came as a shock to everyone who knew him.
"He would be the last person I would imagine who would take his own life," she says.
"I think he felt like he wanted to die at the moment but I don't think he wanted to die forever."
Grayson later uncovers Daniel's habit of bottling up his feelings in a chat with his friends,
"There's a macho stigma surrounding being out with the lads, nobody wants to be seen as not being a man and everybody wants to be seen as being strong."
As Grayson suspects, we agree that this culture of silencing men when they express their feelings and asking them to "man up" every time they show a hint of vulnerability is the core reason why male suicide has reached epidemic levels in the UK. And this culture of silence is also the reason why some men across the globe are violent and aggressive!