Kumail Najiani is an actor, stand-up comedian, podcast host, and writer. Many people know him as Dinesh from the popular series, 'Silicon Valley'. Moreover, the geek has a double master's degree in Computer Science and Philosophy. Yes, he is a real Nerd but he must be a know it all when it comes to girls as Kumail is married to Emily V. Gordon for nearly ten years now.
So how has the couple survived this long despite belonging to world apart background? You have to watch the rom-com movie, 'the Big Sick' to know the whole story. Or stay with hitberry to find more about his married life, but we promise you one thing; Your time will be worth it.
Kumail Najiani's Romance is a perfect movie material
Kumail and Emily's love story is very different from the usual ones that makes you think it cannot be true. Oh! that's why their story was made into a movie. Here's a tease for you. One of them catches a serious disease. Let's find out, shall we?
Kumail Najiani and Emily V. Gordon (Made for each other)
The pair has worked together to write the whole story. On this January, The Big Sick was premiered at the Sundance festival finally to be bought by Amazon for $12 million where Kumail and his beautiful wife share their inspiring love story.
Kumail and his wife, Emily Gordon Source: refinery29.com
The story starts from Gordon reaching the one place in Chicago where Kumail was performing as a stand-up comedian in 2006. Imagine this "Kumail gets disturbed when Gordon shouts midway" and this is how they first noticed each other.
As the movie unfolds they are already dating. At one point Emily falls sick and goes for a checkup. What happens next? Any guesses?
The story then takes a new turn. Emily is diagnosed with a rare disease, adult-onset Still's disease (AOSD). Najiani stands by a bed where his girlfriend lay with medically induced coma. But the lover does not give up except for one problem.
His Pakistani parents want him to get married to a Pakistani girl but Kumail won't leave her side.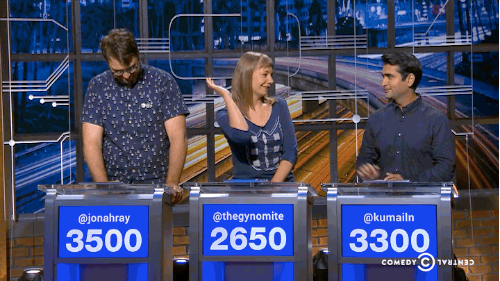 Emily further clarifies that Kumail was called her lion by her parents since he had been her rock from the start until the end.
HOLLYWOOD, CA - JUNE 12: Emily V. Gordon and Kumail Nanjiani arrive at the Los Angeles premiere of "The Big Sick" held at ArcLight Hollywood on June 12, 2017 in Hollywood, California. (Photo by Michael Tran/FilmMagic)
Besides Nanjiani had already made up his mind. He would ask her to marry if she lived. And she did! So not soon after he was standing by his beautiful bride. They got married in 2007 and living more happily than any couple could ever live.
Kumail Najiani And Emily V. Gordon couple Have a matching Tattoo
They like spending hours sharing, unlike boring couples who have been married for several years. Besides if one of them gets lost, they can track each other with the help of their matching tattoos. No. Just Joking except that they do have matching tattoos which they printed on their wedding day but they would not talk more about it.
Kumail Najiani and Emily V. Gordon Source: nowtoronto.com
The only good thing that came out of Emily's near-death experience was the voice that told her not to wait for doing anything she liked and for Kumail, it held even more significance. The 39-year-old star got the new courage to be a stand-up comedian, even if that meant facing people having prejudice.
After Emily was sick I decided, this is a big part of me that I'm ignoring and I think there's a way to talk about it in a way that's personal and true to myself and not stereotypical. Not all of them necessarily are Pakistani experiences, but they are just experiences that a lot of people in America could not have had growing up.
A big Thumbs up, Man! So glad that he did else he would not be where he is now, a successful stand-up comedian. That's enough now people. You know now, how they met and their extraordinary love story. Now if you want the visual version, you have to watch the Big Sick.