Tango dancer Gabrielle Anwar, the former wife of actor John Verea has proved to the entire world over the years that she can do so much more than simply a tango!! She is better known from the movie Scent of a woman in 1992, where Al Pacino and her chemistry was appreciated by many of her fans and followers.
More recently, Gabrielle Anwar is busy on series 'Once Upon a Time' starring Ginnifer Goodwin, Jennifer Morrison, and Lana Parrilla among other actors. Besides acting, she is a mother and wife of her second husband Shareef Malnik. Let's dig a little deeper into Anwar's personal life and know more about her off-screen husband and children.
Gabrielle's Married Life with her second Husband Shareef Malnik
Since 2015, Gabrielle Anwar and Shareef Malnik are living as husband and wife. According to an article published by People on 6 September 2015, Gabrielle first met her husband Shareef Malnik the owner of the Forge restaurant in Miami, in 2010 at Big Sur.
Gabrielle and her second husband Shareef Malnik, Source: Daily Mail
The source even revealed that the financier proposed his long-term girlfriend in June 2014. The romantic couple eventually got married in 2015. Anwar and Malnik officially became husband and wife after they exchanged promises in an intimate outdoor ceremony in a western themed manner.
Gabrielle Anwar shared intimate pictures from her 'Wild West' Montana Wedding to Restauranteur Shareef Malnik. Take a look:
Gabrielle Anwar and Shareef Malnik's Western-Themed Wedding, Source: DuJour
The couple selected the rolling hills of The Ranch at Rock Creek in Phillipsburg, Montana for their most awaited day. Not only Anwar but also her all three children were equally excited for her marriage where her daughter Willow served as the maid of honor, her son Hugo as the ring bearer, and her younger daughter Paisley as the flower girl.
Not only the bride and the groom but also their guests posted several pictures of the pre-wedding festivals.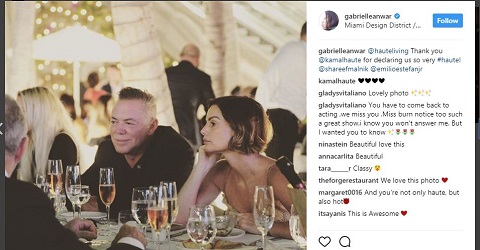 Currently, the duo lives together in Palm Island, Florida. They have many cute pictures of them together on Instagram, it's safe to say that the couple is happy together. Instagram is never wrong, isn't it?
Gabrielle Anwar's Dating History-Love Affairs
Shareef Malnik is Gabrielle Anwar's second husband. Prior to Shareef, she was married to actor John Verea in 2000.The couple had two children; a son Hugo Verea who was born in 2001 and daughter Paisley Verea who was born on 2004. They divorced in 2005 after five years of marriage.
Back in the date 1989 Anwar also shared her love with the actor Craig Sheffer. During their relationship, she gave birth to her first child, daughter, Willow in 1993.
Their relationship lasted for seven years, however, the flame didn't last for long where both of them decided to end it in 1996. Anwar also dated Johnathon Schaech just after the year she broke up with her former partner Craig Sheffer.
Also Read: Actor Craig Sheffer, who recovered from cancer when he was young and in his 30s, suffering another cancer scare??