Five things you didn't know about Michael Dapaah
Five things you didn't know about Michael Dapaah
The comedian and rapper Michael Dapaah AKA Big Shaq rose to fame after his one of the best single Man's Not Hot which became viral sensation across the world.
Michael Dapaah's fans regularly follow him and he has been quite positively sharing his personal details. If in case you are new to Michael's fandom then here are five interesting facts about Michael- Big Shaq. Just stick with us.
Five Interesting Facts You Need To Know About Michael Dapaah- Big Shaq
Michael Dapaah was born on January 1991 in London, England as Michael Kwame O Dapaah. He completed his graduation with a bachelor's degree in Theater, Television Studio and Film from Brunel University. He began his career as a comedian, and later he transformed to Youtube and created his Mokumentary- Somewhere in London.
Michael Dapaah- "Man's Not Hot"
The British comedian Michael came to the spotlight for his song "Man's Not Hot." During an interview, when Michael was asked about the idea behind this song, he replied that he wears jackets everywhere he goes, even in saunas and spas. So Man's Not Hot no matter what.
Youtube: Five Facts about Big Shaq
Michael Dapaah- Somewhere In London (SWIL)
Before we know Michel as Man's Not Hot, he was popular for his social site. Yes, it's true that Big Shaq started his career with comedic online skits and then he turned to the Mocumentary series on the YouTube Channel- SWIL.
Youtube: #SWIL | The Official Trailer
The channel SWIL follows the adventure of four characters and their journey to success. Since the beginning of his first series of Mockumentary, it has already gathered more than 1 million views.
Michael Dapaah- Net Worth
Being an American actor, rapper, comedian, and social media celebrity, Michal Dappah has an estimated net worth of $1 million. It looks like Dapaah's net worth is higher than reported.
[ CAPTION: Michael Dappah ]
[ SOURCE: Plugsville ]
Michael is earning a huge money from social media and is generating income from his YouTube channel too. He also promotes business on Instagram.
Michael Dapaah- Best friend
Michael has a very solid friendship with Stormzy after meeting him at an event for unsigned acts. Although it is very rare to see Storymz in social sites, Michael is very active in social sites. Michael often posted his photo with his best friend, Storymz.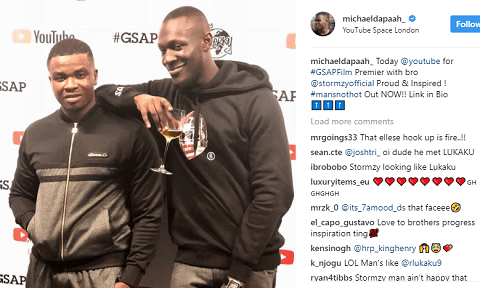 [ CAPTION: Michael has a very solid friendship with Stormzy ]
[ SOURCE: Instagram ]
Michael Dapaah- Personality of The Year
Michael is the winner of the Rated Awards 2017. He has taken the award- Personality of the year to his home, and he feels very proud of his achievement. There is no doubt that Dapaah will be winning several awards in nearby future.