Five Fast Facts about Richard Rawlings, Know all
Five Fast Facts about Richard Rawlings, Know all
The star of the Discovery Channel series Fats N loud, Richard Rawlings is a car enthusiast who brought green 74 Mercury Comet when he was only 14 years old. He is an American entrepreneur, auto mechanic, race driver and media personality.
Richard has become the main subject of the Discovery channel series Fast N' Loud. So today let's just see some amazing trivia and facts about Richard Rawlings. Stick with us.
Five fast facts about Richard Rawlings
Richard Rawlings was born in 1969 in Fort Worth, Texas. During his childhood, he went to the auto showroom with his father and constructed car at the age of 14. He completed his graduation from Eastern Hills High School and worked as a firefighter, paramedic and law enforcement officer.
Richard Rawlings- Served as a Firefighter
The native of Fort Worth, Richard Rawlings was a firefighter. He was not only a firefighter, he was a police officer and paramedic. But he left those job to open Gas Monkey Garage, which is a world-renowned hot rod shop which produces cars for the people around the world.
[ CAPTION: Richard Rawlings ]
[ SOURCE: Pinterest ]
Richard Rawlings- World record holder
Richard is the current record holder in the Cannonball Run. He broke the record which was stood in 1979. It was one and only Richard who covered the 2811 miles from New York to Los Angles in 31 hrs and 59 min with an average speed of 87.6 miles per hrs.
Youtube: Five facts of Gas Monkey Garage "Richard Rawlings";
Richard Rawlings- Has PASSION for CAR
Richard has a passion for a car to achieve his passion for the car, he worked two or three jobs so that he could afford the cars or the motorcycle on his own. His father was the major influence and now we can see him as the owner of Gas Monkey Garage.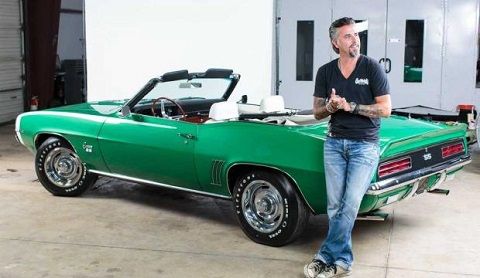 [ CAPTION: Richard Rawlings has a passion for cars ]
[ SOURCE: WhereTraveler ]
Richard said that he has been obsessed with cars since the date he was born. As it is already said that he has a car by the age of 14 and had gone thoroughly nearly 20 cars by the time he was out of high school.
While asked about his dream car, he replied that 1932 Ford Roadster is his dream car and at present, Richard Rawlings's cars collection includes Lamborghini Countach, Ford Mustang, Ferraris and Porche as far back as the 50s.
Richard Rawlings- Reunited after Separation
Richard and his wife Suzanne were together again after the separation of five years. Talking about the reality, both the couple had no idea that after the separation of 5 years will actually bring them so close.
Also read: How old is Richard Rawlings wife? Know the reason for divorce with Suzanne Rawlings
[ CAPTION: Richard Rawlings and Suzanne Rawlings ]
[ SOURCE: usabestcars.com ]
Both Richard and Suzanne has remarried his ex-wife in 2015. After their re-marriage, the couple seems to be closer than they were before. Richard is also known and a devoted husband who never felt exhausted while flattering his wife, Suzanne.
Richard Rawlings and Suzanne Rawlings- Running A Gas Monkey Bar
After facing lots of ups and downs in there, Richard and Suzanne married life, they are now branching out their garage as well as a Bar And Grill- Gas Monkey. We just hope that the couple stays happy from now on till forever.