Five facts about Ruby Rose
Five facts about Ruby Rose
An Australian model and record artist, Ruby Rose became an overnight sensation in the US back in 2015 when she debuted as inmate Stella Carlin in the Netflix super hit series- Orange Is The New Black. Check out some of the five interesting facts about Ruby Rose.
Ruby Rose started her career as a model in 2002 after winning the second place in a model search for Australian teen magazine- Girlfriend. So without any delay let's know five facts about Ruby Rose in detail.
Five facts you need to know about Ruby Rose
Ruby Rose was born on 20th March 1986 in Melbourne, Australia as Ruby Rose Langenheim. A single mother raised her. She attended University High School and later than joined Footscray City College.
Also read: Is Ruby Rose Married or Single, or just Dating anyone?
5. Ruby Rose- Fought with Alcohol Addiction
The model, Ruby Rose fought with alcohol because of excessive dependence on alcohol and overconsumption of alcohol. When Rose had an embarrassing incident with singer Katy Perry, the incident played a huge catalyst for making a drastic the change in her which left her in a realization that she needed to make a serious change.
Also read: Disclose Katy Perry's Net Worth, House, Cars Collection, Awards, and Achievements
[ CAPTION: Ruby Rose- Fought with Alcohol Addiction ]

[ SOURCE: Just Jared ]
Ruby wrote a private piece for the Australian news site where she wrote her experience before and after breaking the habit. She wrote:
Drinking was getting more and more expensive for her, as well as sometimes she often lost or misplaced her belongings (and for a time she lost of dignity, as she sometimes showed up wasted to dangerous parties.) Ruby Rose even encouraged the readers to break their bad habit themselves, she also mentioned that excessive drinking can be bad for your health and also for your relationships. Take a cue from Ruby!
Youtube: Five facts you need to know about Ruby Rose
4. Ruby Rose- Love doing things in her way
Well, it's a fact that Ruby is a type of person who values the uniqueness that the person has. She doesn't let other people or society to determine how she should dress, love or act.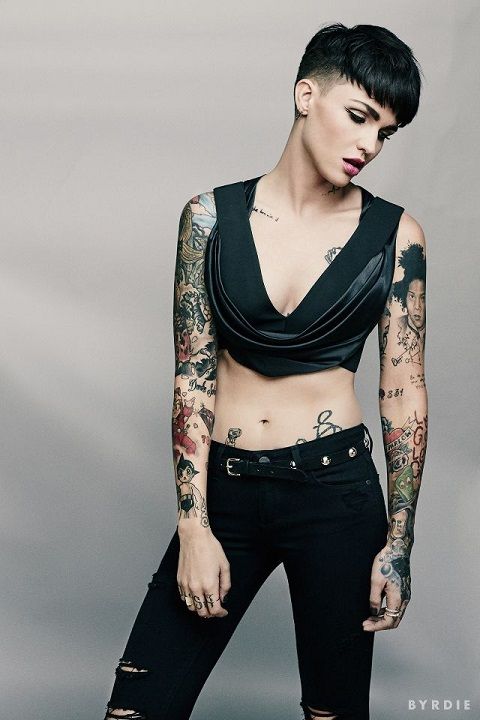 [ CAPTION: Ruby Rose- Love doing things in her way ]
[ SOURCE: Byrdie ]
In fact, Ruby Rose has done plenty of her own things like collaborating with designers, other professionals, and makeup artists. She even has released her clothing line called Milk and Honey, which was well-received by the public in 2010.
She also has started her organization- Headspace- an organization which targeted to youth who are struggling with mental illnesses like anxiety, depression, and struggles with gender and self-identity.
It also provides support hotlines and counseling centers. Later on, the organization was recognized by the government of Australia in 2006.
3. Ruby Rose- Face of A Makeup Campaign
Ruby is not only a CoverGirl but also the face of many cosmetics in Australia. She even achieved recognition for her awesome makeup photo shoots for which she has appeared in numerous acclaimed publications like Vogue, Nylon, and Marie Claire.
[ CAPTION: Ruby Rose- Face of A Makeup Campaign ]
[ SOURCE: InStyle ]
She even has become the face of Urban Decay Cosmetics. In the past, she has also contributed to other beauty and fashion lines, and for that, you probably could say that she's better than a CoverGirl.
She was also the part of Faircloth Lane- an ethical clothing line JVC, JAG, and Georg Jensen, and her incredible tattoos have landed her in New York's Inked Magazine
2. Ruby Rose- Wrote her short movie
Well, Ruby Rose is not only an iconic actress, but she is also a producer and writer. She wrote, produced, and even started a short film, Break Free-deals about gender and sexuality. In that short film, she discovers the concepts of femininity and masculinity. She wrote this short movie to represent her personality as a gender fluid person.
Video: Ruby Rose's short film about sexuality and gender
1. Ruby Rose- Belongs to a COOL family
Ruby mother was 20 years old when she gave birth to Ruby. During her youth, Ruby was exposed to the world and art, as she and her mother traveled all around Australia.
[ CAPTION: Ruby Rose with her mother ]
[ SOURCE: Daily Mail ]
She is the goddaughter of a famous boxer, Lionel Rose- one of the first successful boxers as her great-grandfather Alec Campbell- was the last surviving soldier of Australian battle- The Battle of Gallipoli. And this obviously determined that Ruby belongs to a cool family.