Erin Burnett is an American News anchor but you may recognize her as the host of Erin Burnett OutFornt- one of the dynamic nightly news program which provides the depth analysis of the compelling news marks, lively debates, global headlines and provides discussion on day's top issue. So, today let's know some of the five facts about the news anchor, Erin Burnett.
Erin started her career as a finance analyst and before that she used to work for Goldman Sachs. So, without any delay let's know five facts about Erin which deals her career, relationship, controversy and much more.
Five facts you need to know about Erin Burnett
Erin Burnett was born on 2 June 1976 in Mardela Spring, Maryland U.S. She attended Williams College where she studied economics and political science and graduating with a Bachelors of Arts degree in political science.
Also read: How much is American News Anchor Erin Burnett net worth? Get About her House, Cars, Awards, and Property
Erin Burnett- Raised Eyebrows during live Broadcast
When Erin appeared on the night show on CNN, one of the questions distracted many viewers from the news, as they kept questioning- What happened to her eye?
Youtube: What Happened to CNN Anchor Erin Burnett's Eye?
During the broadcast, her eye looked like swollen, only half open and downright painful. As she tried to mask her problem by keeping her face down, by raising her eyebrows, but due to her such behaviors views were more curious to know what actually happens to her. One of her fans wrote- You Looked like you were in a boxing match, Needs a pirate eye patch.
And later on, Erin confirmed that she had a very bad cold before the show and her eye was affected.
Erin Burnett- Raised up Destined only for Television
As we know that Erin Burnett is a native of small-town Mardela Springs, Maryland. She is the youngest daughter of Kenneth King Burnett- corporate attorney and Esther King. And without any doubt, we can say that she appeared destined to be a superstar on Television.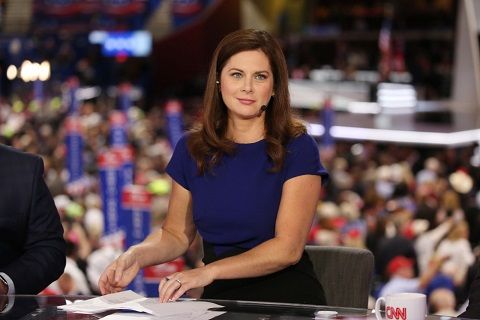 [ CAPTION: Erin Burnett- Raised up Destined only for Television ]
[ SOURCE: thenetworthportal.com ]
During her high school yearbook, even her classmates predicted that she would become a host of the talk show and years later, after working for both CNBC and CNN, those predictions undoubtedly came true.
Erin Burnett- Living a happy married life
Erin Burnett is living a happy married life with her husband, David Rubulotta and two children Nyle Thomas and Colby Isabelle. They are also known as a formidable power couple. They tied the knot in December of 2012 at City Hall and it was officiated by a Justice of the Peace.
Also read: CNN Anchor Erin Burnett talks about balancing work life and family life with husband and her children
[ CAPTION: Erin Burnett is living a happy married life with her hu ]
[ SOURCE: Married Biography ]
Talking about David, he is a managing director at Citibank and previously he worked for Lehman Brothers. Erin and David met each other on a blind date in 2004 and shortly after their first met they got engaged.
Erin Burnett- Involved in a Controversy
When Australian Prime Minister decided to devote millions of dollars to aerial shooting in the year 2009, Erin reported the news in her own show as she used the word serial killer with her co-host Jim Cramer. She claimed Prime Minister's plans as canalside.
[ CAPTION: Erin Burnett- Involved in a Controversy ]
[ SOURCE: CNN.com ]
And next day she was criticized. But in the response to the criticism, CNN reported: We support Erin and the OutFront team and we respect that there will be a range of opinions on any given story."
Erin Burnett- Investigation report was nominated for Emmy
In the year 2010, Erin performed an investigation report on chemical giant Transammonia, doing business in Iran. As per her report, she presented that the owned subsidiary of Transammonia in the US used to buy ammonia from Iran.
[ CAPTION: Erin Burnett- Investigation report was nominated for Em ]
[ SOURCE: soapoperadigest.com ]
Just because of her investigative journalism, Transammonia had to send a media release to congressional leaders stating that Transammonia's Swiss subsidiary would finish the contract with Iran and close the business with them as soon as possible. And her investigative report was nominated for Emmy in 2011.
So we have some more facts about Erin Burnett as a bonus for you. Here's the list.
Erin joined Bloomberg Television and then started working as stocks editor and an anchor. She also served as a host of CNBC's Street Signs.

Erin won News & Documentary Awards for her Outstanding Live Courage of a Current News Story.

Erin's favorite food is Israeli couscous for dinner and brownies.

There were rumors that Erin's topless picture appeared on the front page of Maxim magazine but later on, it was confirmed that the pictures were false.

Erin also appeared in a movie- Edge of Tomorrow as CNN News Anchor.