Actress Ellen Page is happier than ever since publicly coming out. Ellen is in a relationship with artist Samantha Thomas.
This is where I currently am & my gf is talking about a pregnant trex that was found(Dna =Jurassic park) #datenight pic.twitter.com/MgFpYwsq2C
— Ellen Page (@EllenPage) April 16, 2016
In an interview with People's magazine, Page admits that she feels happier than she has probably ever felt, and also inspired again creatively. She feels like she is a different person altogether.
The actress said, 'When you feel like you can live as your authentic self in the world, then you get to really authentically create and explore, and you're filled with this…I don't know…I guess passion again.'
Since coming out, Page starred in and produced Freeheld and also created Gaycation. Both projects have an LGBTQ focus, the actress said she often bristles at being asked about "doing this thing that's gay and this thing that's gay."
Ellen said there has been a 'shift' in attitudes towards LGBT, that more people's stories still need to be told as pictures from her new striking magazine cover shoot were unveiled in OUT magazine.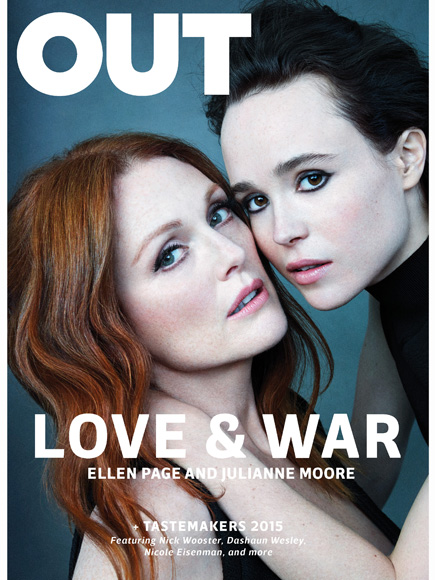 Source: OUT magazine
Ellen Page came out in a speech at a human rights campaign conference.
Page said, "I'm here today because I am gay," Page said at a conference to promote the welfare of LGBT young people as she came out. "And because maybe I can make a difference. To help others have an easier and more hopeful time."
What inspired her to come out like that, in a speech? The actress says she felt like she had to come out because of 'Freeheld.'
Page plays Stacie Andree in the film alongside Julianne Moore as Laurel Hester, a New Jersey police officer who is diagnosed with terminal lung cancer and wants to pass along her pension benefits to Andree. The local board of freeholders blocks the request despite the state law allowing it, which prompts LBGT groups to fight for the couple at the meetings and spark headlines nationwide.
In an interview with TIMES magazine, Page was asked, if Freeheld convinced her to come out, she said,"I think it was a bunch of different things. It was my own internal journey—for the most part, it was separate from all of this. But when you read Stacie and Laurel's story, and you know you're going to tell it, you think, 'There's no way you cannot be an actively out gay person if you make this film.'
I remember watching the Pussy Riot documentary and thinking, "Oh my God. The courage of these people. It's just like, Dude, come out—just say you're gay. You're privileged, you have a family. You have no excuse."