Senator Elizabeth Warren is now starring as a comic book hero.
Source: nydailynews.com
Storm entertainment, the publisher of 'Female Force,' a comic book series about empowering women has released its new comic book ' Female Force: Elizabeth Warren' featuring US senator Warren.
The 'Female Force' series has previously featured the lives of notable women as Hillary Clinton, Nancy Pelosi, Madonna, Sarah Palin, Condoleezza Rice, Cheryl Sandberg, Nancy Reagan, Tina Fey and Caroline Kennedy.
In a press release, the creator of the series Darren Davis said:
"We wanted to showcase the strong women in today's society that have inspired generations and shaped the culture of today."
Written by Michael Frizell and illustrated by Vincenzo Sansone and Chris Canibano, the book tells the true-life story of Warren's rise from Oklahoma schoolgirl to U.S. senator and champion of the liberal wing of the Democratic Party.
The writer and illustrator of the book said:
"From modest means to the Massachusetts Senate, Elizabeth Warren has proven herself a powerful advocate for the middle class. Her plainspoken approach and dogged attacks on Wall Street have resonated with voters looking for someone who understands the crush of debt and the shackles imposed by student loans. STORM is proud to present this graphic nonfiction portrayal of her rise to power."
Source:Wikipedia
Publisher Darren Davis opened up about why he chose Warren's story.
"She's a woman that has it all. She has the family. She has the career. She has a strong work ethic. We thought she had a really strong story."
U.S. senator Warren is known for fighting against Wall Street interests and high student loan debt and becoming a champion for the middle class.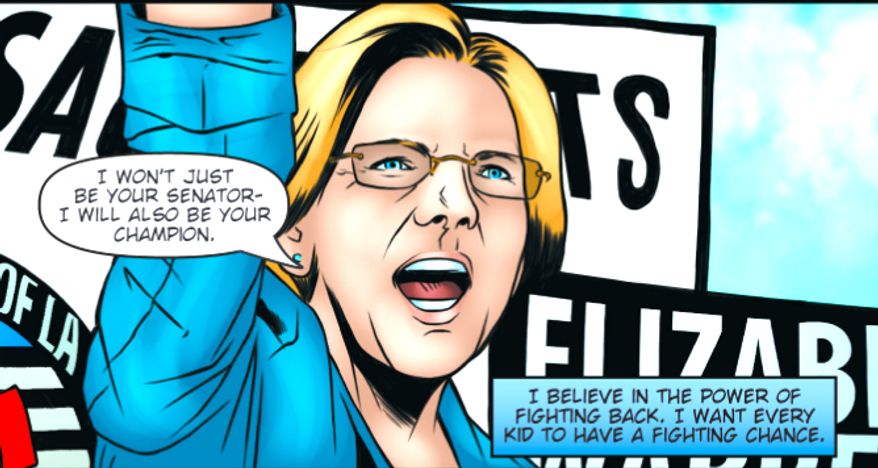 Source: Storm entertainment
The comic book archives her ideological battles to personal and professional struggles and her journey to prominence. The book chronicles her journey from hardscrabble childhood and young mom to a law student, law professor and candidate for Ted Kennedy's old U.S. Senate seat.
"We really want to showcase these people's lives and where they came from rather than making some political statement," Davis said.
Warren has not commented publicly about her turning into a comic book hero. It has been said that she learned about it only after publication.
While some people are inspired by her heroic deeds, others are painting her as a comic book villain.
Massachusetts Republican Party Chairman Kristen Hughes from the opponent political party said:
"Warren would raise taxes faster than a speeding bullet and … her big government agenda would trample small business with a single bound."
"A comic book seems like the perfect way to tell the story of a politician as detached from reality," Hughes commented.
However, the creator of book series Davis is hopeful for the Warren comic and believes that there's huge interest in the Massachusetts Democrat.