Doreen Lioy, the wife of the late serial killer Richard Ramirez, who is most popularly known as the Night Stalker, has been known to the media since her marriage with Richard. But, after his death, most of the people are really confused as to who she is currently dating.
Richard Ramirez had died of natural causes in 2013. After mourning the death of Ramirez, has Doreen moved on to a new relationship? Is she dating anyone now? Well, if you want to know all about her dating relationships, keep on scrolling.
Is Doreen Lioy Dating or still Single?
The current relationship status of the wife of the night stalker Doreen Lioy is thought to be single as she has been hiding from the public media for a long time. There are currently no details of her on the social media sites and kept all of her information hidden. Even her whereabouts are unknown.
CAPTION: Doreen Lioy with her exhusband Richard Ramirez
SOURCE: Whos dated who
Even we tried to look at the Instagram, Twitter, and such other social media to find out if she uses any of them, but all of them are not seen to be used by Doreen.
So, it's really hard to say the fact about her current relationship status. Since she found out about the real truth of her husband's crimes, she was awestruck and stressed to have believed him. Hence, this might have changed the fact that she is not in any dating relationships.
Doreen Lioy and Richard Ramirez's Relationship
The magazine editor, Doreen Lioy was married to the famed stalker and murderer, Richard Ramirez. There is not even a single proof of where and how they met but, it seems as if they had met only after Ramirez was sent to prison. After he was jailed, Doreen wrote a large number of love letters to him.
CAPTION: Doreen Lioy with her ex-husband Richard Ramirez
SOURCE: Forensic Outreach
In an 11 years' period, Doreen was said to send him a total of 75 love letters. In 1996, after all those years, the couple got married. The marriage took place in the San Francisco Prison.
In 1997, while talking about her husband, Lioy stated that she believed Ramirez that he was innocent and funny. Following her marriage with the stalker, she was disowned by her own family stating that it was a lonely lifestyle.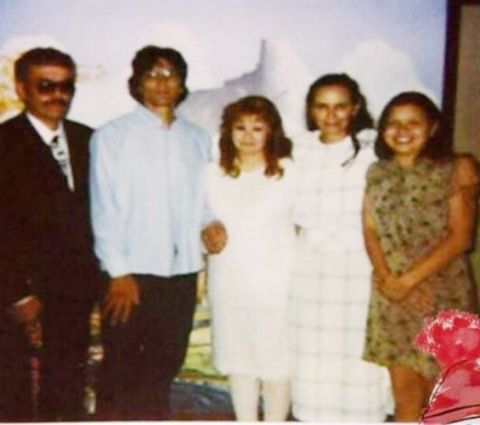 CAPTION: Doreen Lioy marrying her ex-husband Richard Ramirez
SOURCE: Pinterest
They had a really great family life as Richard was in jail and she would visit him four times a week. But, there was a rumor of their breakup in late 2010 as it was proved that Richard had a direct link to the murder and rape of a nine years' old girl. Since then there were no visitors for the murderer. It was reported that he, himself, didn't receive any visitors since then.
CAPTION: Doreen Lioy with her ex-husband Richard Ramirez
SOURCE: Tumblr
Later, in 2013, Ramirez died of natural causes but, nobody showed up to claim his body. Nobody claimed the body, so he had to be cremated. The very fact that nobody showed up to claim his body states that Doreen had already broken up with him following his involvement in the murder.
It seems as if Doreen is currently disturbed as after all these years of her marriage where she believed her love was never wrong turned out to be the criminal.
Ten Facts about Doreen Lioy
1. Doreen Lioy was born in Burbank, California, US.
2. She was married to Richard Ramirez from 1996 to 2013.
3. She is currently single.
4. She was married in San Quentin State Prison.
5. Doreen was a magazine editor.
6. She thought that her husband was innocent.
7. Doreen Lioy has been involved in a TV documentary called THS Investigates: Love Behind Bars.
8. She also has a biography called Richard Ramirez: The Night Stalker.
9. She used to visit her husband four times a week.
10. Doreen had broken connections with her husband since 2010 after his guilt was proved.