"The Heat gave me an opportunity when nobody else wanted to," says Udonis Haslem. Udonis Haslem who struggled to play basketball with the club Heat has become the star player of the current time. He started playing basketball for Miami since 2003 and is still active in the field earning a huge amount of money.
Besides, Udonis Haslem has been in the heart of thousands of people. Moreover, he also collected a decent amount of money from his basketball professions. If you want to know about his net worth, salary, cars collection, and houses. Keep scrolling !!!
Know about the Udonis Haslem's Net Worth
American professional basketball player Udonis Haslem's net worth is estimated at $20 million. Similarly, his current average salary is $3.8 million per year.
Analysing his records, the first salary that he received was $366,930 in 2003 from Miami Heat, $620,050 in 2004, $5 million in 2005, $5,530,000 in 2006, $6,050,000 in 2007 and so on. As of 2017, he received $2,330,000.
Youtube: Udonis Haslem game-winning shots
Haslem owns several cars including Challenger SRT-8 which current price in the market is around $54,000. He also owns a luxurious mansion in South Florida. Here are the photos of his cars and house. Check it out:
[ CAPTION: Udonis Haslem's house ]
[ SOURCE: local10 ]
[ CAPTION: Udonis Haslem's house ]
[ SOURCE: ytimg ]
[ CAPTION: Udonis Haslem's car, Challenger SRT-8 ]
[ SOURCE: celebritycarsblog ]
Know about the Udonis Haslem's Career
Three-time NBA champion, Udonis Haslem started playing basketball since his high school (Wolfson High School).
In 1997 and 1998, he led his team to the state titles playing alongside, Steve Blake. Later on, he joined the University of Florida where he played in the position of Starting Center. During that time, He was chosen as All Sec for four years.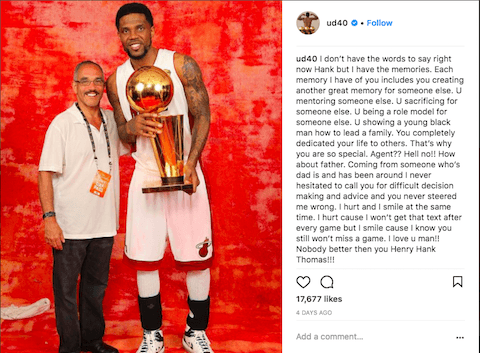 [ CAPTION: Three-time NBA champion, Udonis Haslem ]
[ SOURCE: Instagram ]
Youtube: Udonis Haslem in University of Florida
Besides Udonis was awarded as a Gator Great at the University of Florida's Athletic Hall of Fame in 2012. He joined Miami Heat in 2003 as an undrafted rookie, and by 2004 he became a Power Forward with fantastic rebounding skills. He was also considered as one of the toughest rebounders.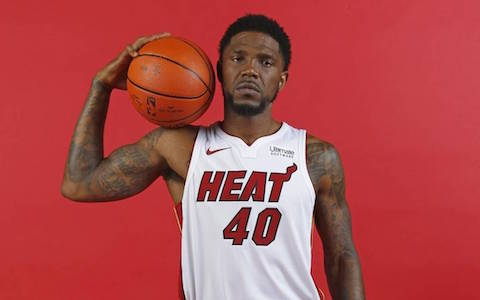 [ CAPTION: Miami's Power Forward, Udonis Haslem ]
[ SOURCE: miamiherald ]
Since 2003, the talented player has been serving Miami Heat. He has played alongside several professional basketball players such as Lebron James, Dwayne Wade, Chris Bosh and so on. Either everyone was transferred or they left the club, but he is the one who is still playing for the team Miami.
Also Read: LeBron James' wife Savannah Brinson, Know about their relationship. Are they happy?
Recently, he resigned with the heat and is currently holding the fourth-longest streak with only one team in the league. So far, Udonis Haslem has collected more than $55 million as salary.