Many of us few might know about Darla Mongomery. Darla is a skeleton athlete and a TV host and a well-known TV personality. But do you known, this beauty got a husband Jon Montgomery. Few might be familiar with the name Jon Montogomery, as he rarely makes the public appearance.
Both Jon and Darla is skeleton pilot/racer is living a lovely married life. So what was Jon's life before the marriage? Whom did he date? Let's found in today's gossip.
Who is Jon Montgomery? Know more about him
Jonathan Riley aka Jon Montgomery is a Canadain skeleton racer and is also a recognizable TV host who won a gold medal in the men's skeleton event at the 2010 Winter Olympics in Vancouver.
In 2002, Jon made his debut in the racing but didn't do much of the progression in his first two seasons. After many failures finally, Montgomery won his first World Cup race in Cesana, Italy, in 2008.
Jon Montgomery Whistler Medal Ceremony, source: 4 pictures
Well, this was just the beginning for this Candain racer, he went to win two silver medals at the 2008 FIBT World Championships in Altenberg, Germany. The years of dedication on the racing track paid off for Jon when he finished second overall in 2007-08 Skeleton World Cup.
Jon Mi, source: prwizard
Jon won the heart of millions of Canadian with his charismatic performance when he won a gold medal in the men's skeleton event at the 2010 Winter Olympics in Vancouver.
Jon Montgomery Amazing Race Canada host. source: CTV News
Apart from his racing career, Jon works as the host of CTV's The Amazing Race Canada.
Jon Montgomery's past relationship and love affairs
Well if you are looking for an inspiration for a true love, then Jon can be your perfect example. The one and only girl she loved and married is none other than Darla Deschamps. Jon tied a knot with Darla on August 6, 2011. The ceremony was held at a vineyard near Kelowna, B.C.
In an interview, it was revealed that when Jon met Darla he said he was going to call her "Dish," a play on her last name. On the other hand, Darla shares her thoughts when she met Jon
"He was also vibrant, fun and incredibly good looking."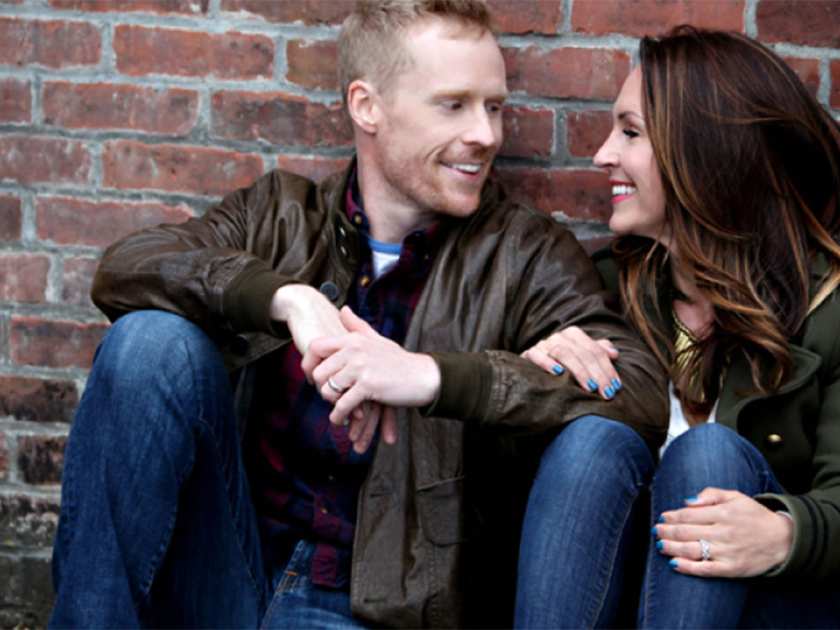 Darla Deschamps and Jon Montgomery, source:Osoyoos Times
After five years of marriage, they were blessed with a lovely son Jaxon Mark Montgomery on August 23, 2016.
As for now, they are no any conflicts between this couple is living together
Jon Montgomery with his wife Darla Deschamps and a dog, source: images
His wife is very supportive as she supports her husband's decision. In 2015 this Skeleton champ couple cycled for clean water.
My Sunday morning has been Made!!! Thanks for the follow @team_giver ?

— Darla Montgomery (@Dishmonty) July 16, 2017
If we look at the twitter of Darla Montogomery you can see tweeting about her family about the race of Jon and this couple took part in the social work.
Me and the Fam Jam are dressed for success tonight! @AmazingRaceCDA kicks off 2nite! Are you Race ready? #TeamMontgomery pic.twitter.com/ys5mZ5IICr

— Jon Montgomery (@jonmonty) July 4, 2017

Jon Montgomery and wife Darla welcome baby boy Jaxon, source: etalk
We hope to hear good new from the Montogomery family in near future.