Colleen Ballinger broke up with Joshua Evans, Know her current affairs and dating rumors
Colleen Ballinger broke up with Joshua Evans, Know her current affairs and dating rumors
Colleen Ballinger; an American YouTube personality, comedian, actress, and singer. She is popular as Miranda Sings more than her official name. Ballinger is best known for posting videos of her character performing her one-woman comedy act.
One of the favorite YouTube couples; Colleen Ballinger and Joshua Evans divorced in September 2016 only after a year of their wedding. Find out what went wrong in between the pair. Check it out.
YouTuber Colleen Ballinger officially splits from Joshua David Evans
If you have seen Ballinger and Evans's videos posted on the YouTube, then you must be aware of their relationship. The couple shared each and every phase of their relationship in their channel including their engagement and wedding ceremony too.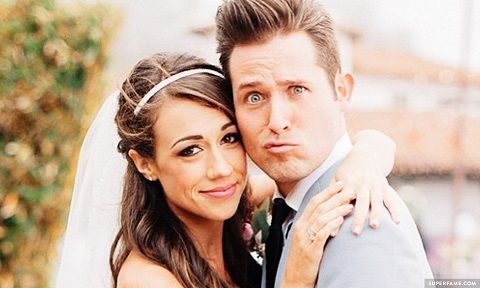 CAPTION: Colleen Ballinger and Joshua David Evans have tied the
SOURCE: Superfame
Ballinger once revealed that they decided to share only the happy stage of their relationship with their viewers and did not want people to know about the hard parts of their relationship. Their fans were not aware of the drama and realities behind their happy faces.
Ballinger announced her personal information on her channel Psycho Soprano. She revealed the not aware scenes behind their so-called perfect relationship. She admits of divorcing her husband. She added:
"We have always had a rocky relationship since the beginning, we've always butted heads, we've always fought ever since we met. It's never been a perfect relationship,"
In the next side, Evans also uploaded a video titled "Heartbroken" in his channel describing the great and terrible times they spent their entire eight years relationship. He continued:
I do not want this divorce. I want her, but I truly believe she thinks she's making the right decision right now, and I can't make her decisions for her
"Joshleen" is no more sharing marital life. Just after a year of their wedding, the couple divorced in September 2016.
CAPTION: Colleen Ballinger and Joshua Evans kissing
SOURCE: Daily Mail
YouTuber Colleen Ballinger and Joshua Evans
Colleen Ballinger and Joshua Evans is most admired and loved YouTube couple. According to Who's Dated Who, the couple started dating since 19th June 2009. After almost five years (exact four years and nine months) of their relationship, the couple exchanged rings on 5th April 2014.
CAPTION: Colleen Ballinger and Joshua Evans
SOURCE: Pinterest
The couple tied the knot on 2nd July 2015, but sadly the couple parted away after a year of their wedding. They divorced on September 30, 2016. Their fans were left heartbroken. The couple ended their eight years long relationship.
CAPTION: Colleen Ballinger and Joshua David Evans on YouTube
SOURCE: Pinterest
There is no doubt that the couple, as well as their fans, are heartbroken! As there is no any news about them having a children lets wish in near future they will disclose about their plan regarding their children.