Former Swansea and Liverpool manager Brendan Rodgers may need some convincing before he takes on the Swansea job offer as their manager.
After being sacked by Liverpool after the last minute draws against Everton, it is his first comeback as a manager. Although he has been approached from the Middle East , it seems he has grown fond of the Premier League .Now, he is planning to move to Swansea where is once worked a manager from 2010 to 2012.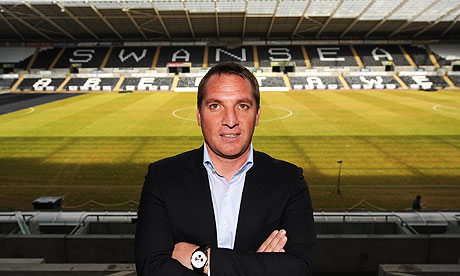 Although he wants to return to his former club, he needs some budget insurance before doing so. According to Rodgers, he wants control over the fund and the players he will take in. He stated that it's for the better of the club. Brendan wants full control over the club.
Swansea fans, however, believes that Brendan will return to manage their club.
Swansea will try to bring Brendan Rodgers back to the Liberty Stadium – @JPercyTelegraphhttps://t.co/RZ7aOA6dhE pic.twitter.com/yNtpzusJ2t
— Telegraph Football (@TeleFootball) April 10, 2016
Brendan is one of the most controversial managers around. Despite being regarded as one of the greatest managers, he was the first manager for Liverpool after 1950 who did not win any trophy for three years. Probably one of the reasons for why he was sacked.
He might need some motivation before he tries out his managerial skill. He wants control over the transfer and the funds associated with it. That is his condition to join Swansea. Considering that Swansea is currently in 14th position with just 40 points, we think he will get his deal. He has had experience with Swansea in his earlier days so we guess no one will be more suitable to handle the club other than Rodgers.
Current Swansea manager Francesco Guidolin is planning to leave Swansea by the end of the season. If everything goes well, Rodgers will replace Guidolin by then. All the best Rodgers for your future endeavor.