While hiring employees for a company, employeers need to pay attention to a wide range of facilities they are going to provide their workers so that the employees work hard in changing the environment of the company. Microsoft, co-founded by Paul Allen and Bill Gates, as the leading and well-recognized firm offers all-inclusive benefits packages to each and every employee. Also, the company provides bonuses, stock awards to employees based on performance.
Working for Microsoft builds a status, but what you get as an added bonus apart from your salary sweetens the deal even more. Working in tech giant Microsoft is the dream for any tech enthusiast just like in Google. From career development to corporate citizenship along with health care to investments – Microsoft has it all. The former and present employees feel special because of the benefits provided to them.
Career Development
At Microsoft, employees are given opportunities in a wide range. They are provided with a wide field and build proficiencies along with choices either to be a contributor or become a manager. As Microsoft has more than one business arm, employees can cross borders beyond the standard working platform.
"You'll never stand still at Microsoft" – Microsoft Inc.
Each employee's roles are defined and empowered to shape experience and start a own career path of their own. They are provided with an opportunity to move forward even if the job position is standard which creates a very friendly enviroment in the company adding to their progress.
Technology: 5 Dell Laptop Series with Intel Processors You Should Know Before Buying
Health Care
Microsoft cares for employees' health as it is one of the factors that determines ability to work. The company offers medical offers, hospitalisation fees coverage; along with life insurance, accidental death insurance and more.
Microsoft arranges one eye exam a year along with various dental care options, 24*7 health line services, and free on-site health screening and influenza vaccines. Also, the company offers door-doctor which means a doctor visiting you at your home while you are sick.
Leaves and Time Off
Working with Microsoft does not mean pressurised job. Employees are granted with leaves and time offs. The employees are granted with 15 paid vacation days, 10 paid holidays, 10 paid days for sick leave and 2 paid personal days a year.
Employees who have become new mothers and fathers receive leaves as well. Mothers receive upto 8 weeks of paid leave, while fathers receive upto 2 weeks. Whether it is for births or adoptions, parents receive paid leave upto 12 weeks to grow a bond with new family.
Corporate Citizenship
Corporate citizenship implicates social duty of business and the range to which they meet ethical responsibility. Microsoft team up with government and societal organisations to address communal needs so that employees are given opportunities to participate in social works and programs.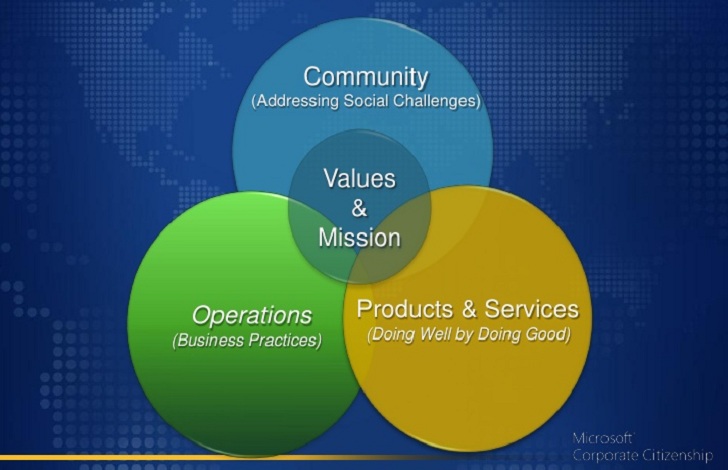 Extra Benefits
Apart from these benefits, Microsoft also provides some extra secondary benefits to employees. It includes fitness, mini-mall, volunteering, free foods, and clubs.
Flexible Work Hours
Employees at Microsoft can choose working hours. The flexible working hours fits best for both early bird and late riser. Also, there is no dress code.
Gym and Fitness
Microsoft offers waged membership to gym clubs. Also, the company provides extra bucks to spend on your own personalised fitness program.
On-campus Sports and Retail Shops
Microsoft offers on-site retail stores; a common salon,a spa, a mail centreand a bank along with restaurants. Employees can spend their free times cruising through retail stores.
The company also offers various sports accessories to employees like soccer, basketball, cricket and other outdoor games. Employees can refresh their minds playing XBOX too.
Did you know: Shocking Amphibious Vehicles, Find out Now!
Free Food
Microsoft Inc., Redmond includes 37 coffee shops, 33 cafes and 500 kitchens provided with 35 types of free foods.
Social Clubs
Microsoft allows employees to join social clubs varying according to needs.
Microsoft Buses and Electric Charge Station
Microsoft offers 55 buses and shuttles with Wi-Fi connectivity to transport employees to and from work. This benefit helps to connect employees to their social life along with getting updated with the latest news.
For those who drive electric cars, the company offers 'Charge Point Networks' that could be used to charge electric vehicles within the campus.