Lance Armstrong, the almighty road racing champion surely deserve a biopic movie of his own with all the controversies that have surrounded his life! And here it is, The Program, a British-French biographical drama based on Lance Armstrong's life where Lance Armstrong will be portrayed by Ben Foster.
Ben Foster worked really hard to get his part correct in the movie and had the following view about Armstrong when he talked to The Guardian about the movie,
"I knew he started Livestrong. I knew he was the greatest at one point. I knew he was considered a liar. I was a really clean knife. On one hand, he's a lying doper who tricked the world. On the other, he's a young man who faced cancer. It changes you. And when you go to war it changes you. That's what Lance did – he went to war with his body. That shifts your consciousness."
"He's a smart man. He says, 'I can do some good with this.' He raised half a billion for cancer research. We just don't like him because he was Jesus Christ on a bicycle. We're mad he came back from the dead, saved the sick and then turned out to be full of shit. And we're punishing him because he didn't apologize in the way we'd like. Americans love a good apology. He wouldn't do that."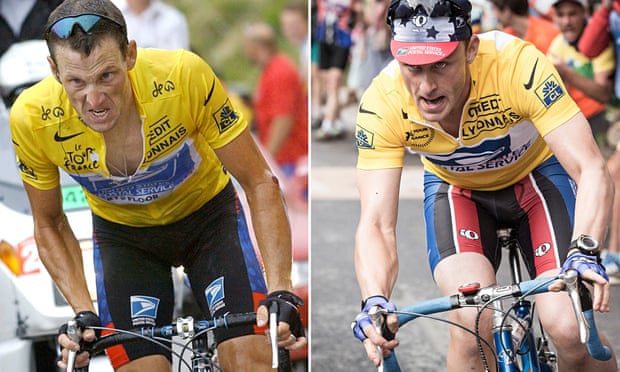 Lance Armstrong, left and Ben Foster, right. Source: The Guardian
In the same interview Foster also casually admitted to using performance-enhancing drugs as part of preparation for the role,
"I don't want to talk about the names of the drugs I took. Even discussing it feels tricky because it isn't something I'd recommend to fellow actors. These are very serious chemicals and they affect your body in real ways. For my own investigation, it was important for me privately to understand it. And they work."
The movie mainly revolves around Lance Armstrong's life as a cancer survivor who still remains one of the greatest cycling champions! He won the gruesome Tour De France seven times, meanwhile popularizing the sport, his journey to being a celebrity and forming his own cancer charity. But all was not well for Armstrong when rumors of doping surfaced. The cycling authorities gave him an easy ride initially, as Armstrong's fame and charm were key elements in the sport's newfound popularity. Ultimately the evidence became too overwhelming, and he was stripped of his wins.
The movie hit the theater on October 16, 2015.