Guys, can you believe that it's been a year that Ariel Winter and boyfriend Levi Meaden started dating?
The duo started dating back in November 2016. They have always been regarded as the hottest couple and has been a couple goal for the people. The couple has celebrated their first anniversary. Have a look:
Ariel Winter and Boyfriend Levi Meaden Celebrate the First Anniversary
On Sunday, Ariel Winter and boyfriend Levi Meaden celebrated their first anniversary since they started dating back in November 2016. The 30-year-old Canadian actor and 19-year-old Modern Family actress shared their journey with sweet captions to each other online.
SEE: Style Diva: Ariel Winter's Hot Look in Crop Top and Slashed Acid-Wash Jeans
Winter shared a photo of herself with her beau and wrote "Happy 1 year anniversary my love. I'm the luckiest girl in the entire world. Thank you for being the incredible man you are, and for making me the happiest I could've ever imagined. Here's to many, many more. I love you. ?? P.S. your crazy butt is the only one who could ever make me agree to jumping off a cliff at a waterfall soooo yeah. I love you." on her Instagram.
On another side, Winter's boyfriend Levi Meaden penned sweet tribute on his own page. He wrote "I can't believe it's been a year, We've had adventures. Gotten dolled up countless times. And travelled through 3 continents together. I never imagined I'd be this happy. I love you more than anything! Happy anniversary Peanut Butter!!!!"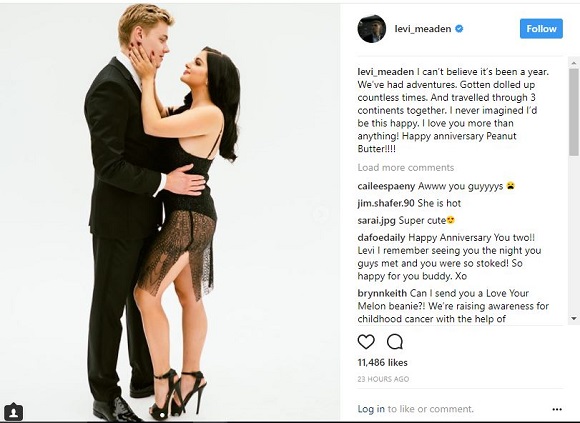 Expressing Love Through Instagram
We must say, they are the hottest couple in the town. Check out their photo shared on Instagram together:
Congratulations to Ariel Winter and Levi Meaden!!