NBC's Matt Lauer has never failed to leave news be it off screen or on screen. He is just there and the man still in demand because why not after all?
Being in his late fifties, Matt has rumors with every co-star he works with and then his wife is just too "supportive" of the image he displays off screen. Too supportive you; all the sarcasm intended. Check out the entire story below:
Annette Roque and NBC's Matt Lauer Nearly Divorced Once
Anette Roque and Matt Lauer have been married for more than 17 years and are still going as strong as ever. Previously Matt was married to Nancy Asplaugh.
Matt and Anette had a very very happy life after marriage where at one instance Annette nearly gave up on the relation and filed for a divorce. However, they reconciled soon, and since then they have always had a very happy marriage. But happy time does have their curves too right?
Anette and Matt Lauer nearly divorced before. However, the couple reconciled. The reason for the divorce though is pretty simple and stated out by Anette Roque- Matt Lauer's infidelity and Casanova image. Ouch, Matt, we know that hurt, but well we don't blame you for that, your wife once did.
It is not unknown to everyone that Matt is a big soft-hearted when it comes to his co-stars be it, Natalie Morales or Lara Spencer.
Yet the twist in the tale is Anette seems to have known about her husband's weakness and did not mind Lara Spencer as much as she minds Natalie Morales in his life. Possessive wife issues, maybe are what would be your first instance. But Nah. That is just not it.
Also See: NBC's Natalie Morales is an Avid Runner. From Marathons to Triathlons; She's done it All
If our sources are to be believed the union of Annette, Natalie and Matt goes back to a decade when Natalie started working for the NBC.
Since then Annette has never been that fond of Natalie, and the cherry on the cake is the very fact that Annette witnessed Matt and a blonde haired woman holidaying together in the Hamptons. And then the fire on the mountain. Anette got severely pissed at Matt and did not want Natalie Morales around him at any cost.
Matt Lauer with his wife, Annette Roque. The couple married in 1998 after her divorced his first wife, Nancy Asplaugh
Also Read: NBC's Natalie Morales - Journalist, Actress, Model, Runner. What more to her Sassy Aura?
In fact, being all so pressurized there is also news that Natalie Morales was fired from her Today show because of this very association and Matt Lauer was one of the prime reasons behind it.
If the reports are to be believed Anette filed a divorce against Matt and only reconciled with him after Natalie Morales was transferred from the show to Access Hollywood.
It was also termed that Natalie shifted due to some other reasons, but that looks like all a facade.And then the couple lives happily ever after here on.
Also See: Natalie Morales is an Amazing Mother. Her Instagram is a Live Proof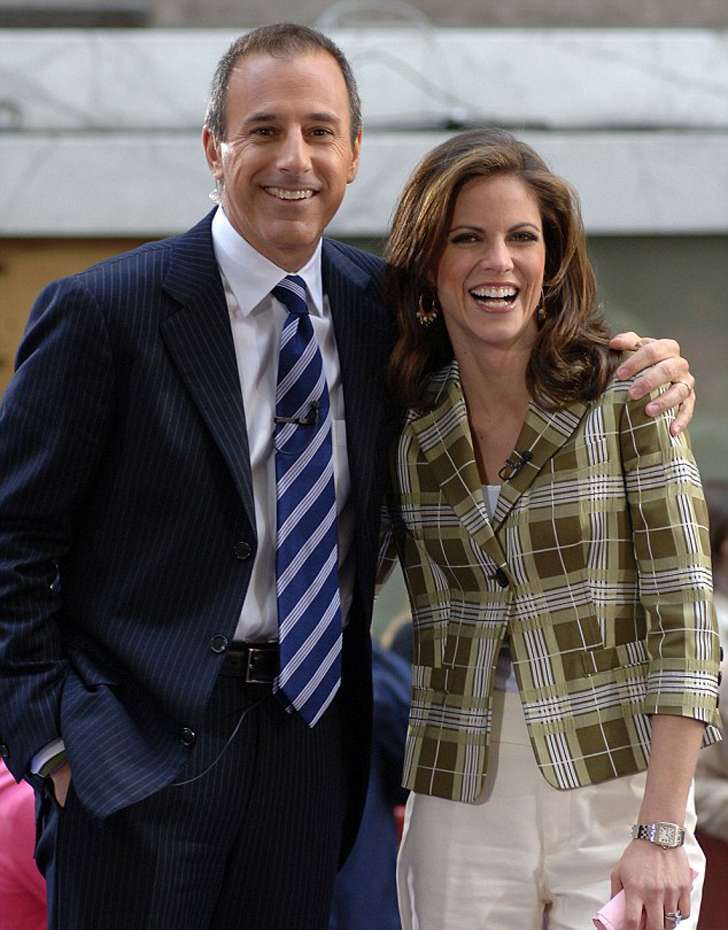 Happily ever after hmm. Just have a look what Savannah Guthrie; his other co-actor found on his working table. Sums up Matt's life perfectly.
https://twitter.com/SavannahGuthrie/status/565860472260657153?ref_src=twsrc%5Etfw&ref_url=https%3A%2F%2Fhitberry.com%2Fwp-admin%2Fpost.php%3Fpost%3D12786%26action%3Dedit
Natalie Morales with her husband Joe Rhodes and their two children. The couple has been married for a long time after their love affair.
Also See: Matt Lauer Buys $36.5 Million Real Estate from Richard Gere in Hamptons. Know his Net Worth
Who is Anette Roque?
Anette Roque is a Dutch-American model who has done an endorsement of several brands. However more than her professional career, she is famous for being the feisty wife of the NBC journalist Matt Lauer.
She married Matt Lauer in 1998 after he divorced his then wife, Nancy Asplaugh. The couple has three children; two sons, Jack Matthew and Thijs, and a daughter, Romy
Also See: Top 10 moments of Natalie Morales when her height made her hot yet beautiful