One of the renowned faces in Hollywood, Anne Hathaway is an American actress and singer known for her roles in Les Miserables, Interstellar, Alice in Wonderland and more.  Anne debuted in the film industry as Mia Thermopolis in the Disney comedy The Princess Diaries.  This was the movie, that gave Hathway breakthrough in the Hollywood.
The beautiful and talented actress, Anne had lots of ups and downs in the past. Hathway's personal life never took a smooth flight. Controversial relationship followed by legal investigation, Anne relationship went through rough roads. But now Anne is married, so who is the lucky guy?
Anne Hathaway living happily after years of marriage
Anne Jacquline Hathaway aka Anne Hathway, married to businessman Adam Shulman on September 29, 2012, in Big Sur, California. They have been together for years and you might be wondering how they first crossed paths and how their crossed romance begin?
in 2008, after Hanthaya cut things off with ex-boyfriend Raffaello Follieri, Anne decided to remain single for a while but when she met Shulman it took no time for her to change mind.So, obviously, their story was pretty close to love at first sight.
Anne Hathaway and Adam Shulman at their wedding, source: Daily Mail
It took no time for their love chemistry as after six weeks of their first meeting, Shulman and Hathaway on their first date a trip to new Orleans.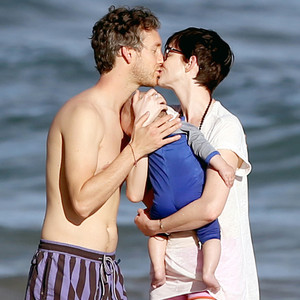 Anne Hathaway with her husband Adam Shulman and son in Hawai, Source: E! Online
You will be surprised to know, Anne bought the ticket for her two friends but unfortunately, they didn't go so she invited Shulman. Without any hesitation, Adam said yes and rest was just a history.
Anne Hathaway with her son Jonathan Rosebanks Shulman in Hawai, source: celz.ru
Soon this couple got engaged in November 2011 and it has been four years of marriage. In 2016 Anne got more reason to be happy. Alice in the Wonderland star gave birth to an adorable baby boy named Jonathan Rosebanks Shulman, on March 24, 2016.
The 34-year-old actress shared the first picture of her son via an Instagram.
Anne Hatheway is one caring and loving mother. We all know balancing our professional and personal career can be a bit hectic. In 2017, Anne says that Adam helped her to change her ability to be in the world.
Anne Hathway past relationship and love affairs
We all know, Anne loves doing charity work. She served as a long-term advocate for Nike Foundation to raise against child marriage. During the charity works, Anne met Italian real estate developer Raffaello Follieri in 2004.
The Manhattan-based foundation was established back in 2003 which focused on providing vacations for children in poor countries in which Rafaello was involved.
Anne Hathaway and Raffaello Follieri, source: Zimbio
While Annes dated Follieri, he got into the legal issue because of the foundation. Anne foresighted the effects on her career and broke up with Raffaello.
In another hand, the bad turned worse for Rafaello.He was sentenced four years and a half years in prison in 2003. This action was hard to digest for Anna's fan as she got criticized for leaving boyfriend in a needy situation.
Raffaello Follieri after jail, source: Daily Mail
In 2012, Hathaway's ex-boyfriend was deported from prison. In an interview, he said he was happy for his ex-girlfriend Anne Hathaway's engagement to designer Adam Shulman. Looks like, Rafaello still have things for her. What do you think?