Angie Goff and Robert Ellis are one of the cutest couples who is enjoying their marital relationship for a long time now. A healthy marriage requires two people who choose to love each other even on those days when they struggle to like each other. And their marriage is strong and is still going smoothly as silk.
Without any doubt, we can say that it'll be fun to learn about their love life. So, without any further delay, let's get inside in the personal life of the couple and find out all the details. Be with us.
Angie Goff and Robert Ellis' Married Life
An American media journalist, Angie got engaged to South Carolina pediatric dentist, Robert Ellis in 2007. And soon after their engagement, they tied the knot.
Angie Goff with her husband Robert Ellis, Source: ohmygoff.tv
Angie's fans are inquisitive to know about their love affair, but she hasn't revealed detailly about her dating, relationship with Robert. But she said that she met Robert when she anchored and reported fro WIS-TV in Columbia. But their love story is still a mystery for all of us.
However, the couple is very much in love with each other. They welcomed their first child a baby girl in 2010.
Angie Goff and Robert Ellis welcomed their first baby girl and second baby boy
The gorgeous beauty of media, Angie announced that she was expecting her first child in June 2010 and after six months of her announcement, on December 2, 2010, she gave birth to her daughter, Adora kate.
Angie Goff and husband, Robert Ellis with their daughter, Source: ohmygoff.tv
Being an anchor and a mom, it was a tough job for Angie to maintain a balance between them because both were very important for her. She said that she's failed to make herself a priority. She added:
"For a while with my daughter, my first child, I really made an effort to make it look like I could do it all and that I could have it all. Then six months into being a mom, trying to work fulltime and balancing a career and still maintaining my sanity, it became a reality that you just can't."
And after three years, Angie announced that she was pregnant again with a son. On May 31, 2013, she gave birth to her son and her weighted 9 pounds.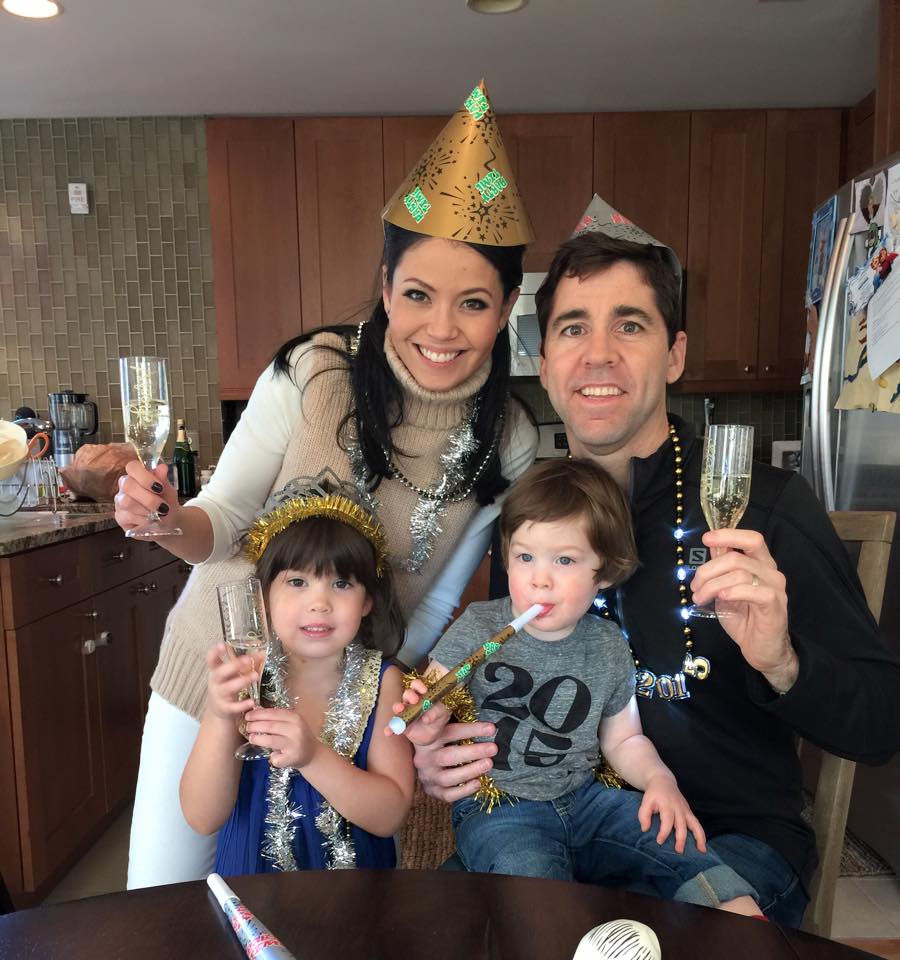 Angie Goff and husband Robert Ellis with their daughter and son, Source: ohmygoff.tv
Angie Goff and Robert Ellis maintain work-family balance
It was challenging for both Angie and Robert to sustain work-family balance. Because Angie career is in Washington and her husband, Robert pediatric dental practice is based in Columbia, South Carolina, where he lives.
Instagram: Angie Goff with her husband, Robert Ellis
https://www.instagram.com/p/BWfeZiYntbO/?hl=en&taken-by=ohmygoff
Angie said: "I have never asked him to move his practice here and he's never asked me to stay in South Carolina, either."
She added: "We both respect how important and how happy both of our professions make us. We have found a travel plan that works. It's become our lifestyle and `our normal.' It can be hard, and we miss each other terribly at times, but I will tell you that we cannot recall a missed opportunity when it comes to being with each other. We always maximize that time because it is so special."
It's perfect to listen about their work-family balance. We hope that they will maintain equal priority to their work and family in future. We wish the couple stay together forever.