An Unsuccessful Marriage from wife Alice Bell, Al Roker Again Got Married to Deborah Roberts
An Unsuccessful Marriage from wife Alice Bell, Al Roker Again Got Married to Deborah Roberts
Marriage is a beautiful bond between two hearts. Everyone wants a successful married life. But only a few of them will be able to have a successful and happy married life. However, some people are so lucky that, they get a perfect partner even after their several unsuccessful marriages.
Well, Al Roker is the one who is able to have a successful married life with his second wife Deborah Roberts even after his divorce with Alice Bell. We have gathered all the information about his relationships. So scroll down your screen for more:
Al Roker Married Deborah Roberts After His Divorce With Alice Bell
Weather anchor of NBC's Today, Al Roker was previously married to WNBC producer Alice Bell in 1984. Roker and Bell together have a daughter, Courtney Roker. Even being the parents of a daughter, they weren't able to continue their relationship and finally ended with a divorce in 1992.
[ CAPTION: Al Roker and Alice Bell ]
[ SOURCE: Ecelebrityfacts ]
After his divorce with Alice, Roker tied the knot with his fellow journalist Deborah Roberts in 1995. For the first time, the couple met each other when Deborah joined NBC in 1990.
[ CAPTION: Al Roker and Deborah Roberts ]
[ SOURCE: heavyeditorial ]
Initially, Roker and Deborah were just friends but later they started dating. After dating for a couple of years, they decided to take their relationship to the next level and tied the knot in September 1995. They also have a daughter Leila Roker and a son Nicholas Albert Roker.
Al Roker is Living Happily With His Wife And Children
It has already been 22 years that Roker and Deborah got married. And till the date, they are successfully maintaining their married life. After his divorce with Alice, many people assumed that Rocker's marriage with Deborah wouldn't last long.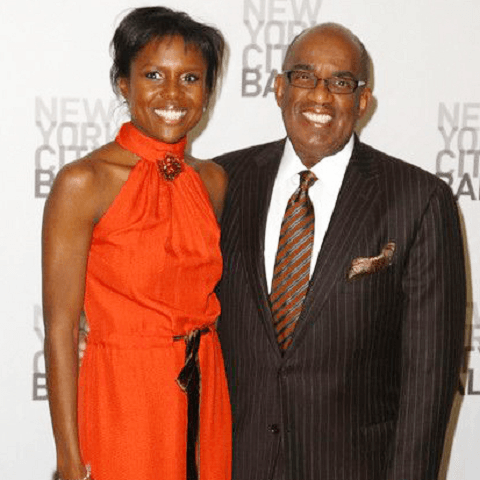 [ CAPTION: Al Roker and Deborah Roberts ]
[ SOURCE: famousfix ]
Despite everyone's assumptions, Roker is happily married. Not only this, the couple survived more than two decades and has two children from their marriage. Therefore, Roker has proved himself as an ideal husband.
Well, Roker also called his marriage with Deborah as a "mixed-weight" marriage to Today's post.
After three years of their marriage, they welcomed their first daughter Leila Roker in 1998. Similarly, they welcomed their second son Nicholas Albert Roker in 2002. Moreover, Courtney Roker also live together with them.
[ CAPTION: Al Roker and his family ]
[ SOURCE: Instagram ]
Till date, Roker hasn't involved in any other extra-marital affairs. Both of them have a mutual understanding and are also supportive towards each other. Furthermore, there are no any rumors of their divorce yet.