American commentator Ann Coulter has a Long list of Relationships, Who is She Dating Right Now?
American commentator Ann Coulter has a Long list of Relationships, Who is She Dating Right Now?
Not each and every love story ends happily ever after like that in fairy tales. Some of course do but some don't, it all depends on the trust and commitment we want to put in. And these days, love and breakup have been a common subject.
Life of the renowned commentator Ann Coulter is the same. She has been involved in a long list of relationship but none of them worked for her. So, after having a long list of relationships, who is American political commentator dating?
Is Ann Coulter Dating or Single?
The beautiful blonde Coulter is not only perfect for her career but also keeps oneself classy and trendy. Though Coulter is 56 years old, she still follows the fashion trends and grabs a huge attention.
We all know that Coulter has been involved in several relationships but none of them lasted for a long time. It's a sad fact that no one could make a permanent place in her heart so far. In other words, she is yet to commit herself to a serious relationship.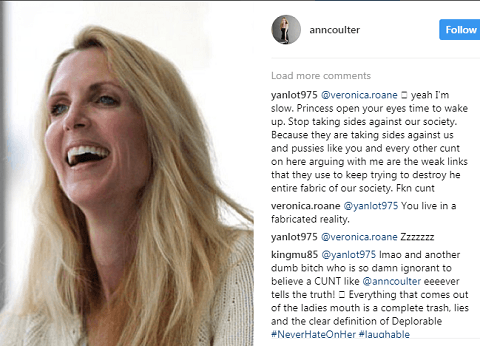 [ CAPTION: Ann Coulter ]
[ SOURCE: Instagram ]
Some sources claim that Coulter might be dating but did not confirm it with the media. It's not always a bad idea to stay behind the window and look out at life instead and Coulter is doing the same. She might be currently enjoying her single life and might be focusing on her professional career.
Ann Coulter's Past Affairs
After dating several men, it seems like Ann is taking a break for quite a while now. She was last seen with an American Democratic politician Andrew Stein.
The couple dated in October 2007 but sadly broke up after a year. In an interview with the Post, Stein stated that the reason behind their separation is irreconcilable differences.
[ CAPTION: Ann Coulter and Andrew Stein ]
[ SOURCE: whodateswho.com ]
Before that, she was linked with well-recognized personalities such as David Wheaton, Bill Maher, James Tully, Bob Guccione Jr., and Dinesh D'Souza. However, being seen with several guys at a different time all the details regarding the breakup reasons is still unknown to us.
Furthermore, she was also rumored to be dating Good Times star, Jimmie Walker. Even though the duo has been friends for years, their closeness doesn't go unnoticed by the media and the followers.
[ CAPTION: Ann Coulter and Jimmie Walker ]
[ SOURCE: The Inquistir ]
Questions were further raised when Good Times producer Norman Lear gave the iconic touch to the rumor saying in the dinner date with the couple that he found out they were indeed in a romantic relationship.
After being the topic of the town for a long time, she denied having a romantic affair with Walker but told the media that Jimmie is best of friends and they are not involved intimately.
So, after several relationship failures, is Ann Coulter single? Or she is just keeping everything behind the curtains?