American-Canadian Actress Pamela Anderson Three times Divorce! Any Plans to Date or Marry Someone?
American-Canadian Actress Pamela Anderson Three times Divorce! Any Plans to Date or Marry Someone?
Who does not know Pamela Anderson? Well, the newer generation might not know her, but for your information, she is one of the hot actresses from the popular 90's series, Baywatch.
Apart from her professional life, she is also very popular for her marriage relationships. Often discussed in the media regarding her getting married to the same person twice, who is the American-Canadian actress dating now?
Pamela Anderson in Relationship with Adil Rami?
After getting through three divorces, with the last one in 2010 making relationship status of Pamela Anderson to single but is she ready to mingle? Let's find out, guys.
The 50-year-old, Pamela is still not an inch less a bombshell then she was in her prime. So, no surprise guys half her age is flooding over her to win her heart. Pam with over millions of followers has given America, many blockbuster movies, and series as a souvenir despite being a Canadian.
[ CAPTION: Pam on the 90s show, the Baywatch ]
[ SOURCE: thesun ]
On June 2017, Pamela was spotted with a 31-year-old French soccer star at La Gioa restaurant in St. Tropez, France. Adil Rami who played defense for Sevilla FC as well as for the French national team seemed to have grown a fondness for her as the duo spent relatively much of the time together.
The duo was again spotted at the Fairmont Hotel after a romantic stay in Monaco. Despite their age difference, the model and the athlete seemed comfortable with each other. Although we don't know if the chemistry between them was magical or not it was not visible.
[ CAPTION: The duo could not get hands off each other ]
[ SOURCE: thesun ]
The former Playboy model and the French ace first caught attention when both were dining at La Maison in Nice. According to the witnesses, Pamela giggled with her hands clasped. She even rubbed his shoulders. Definitely not friends!
Or He Might be Julian Assange...
But what about her other rumored lover, Julian Assange? Prior the French footballer, her name was associated to Julian Assage, the founder of Wikileaks. Julian is now held at the Ecuadorian embassy in London.
He was arrested for rape allegations, apparently an event from Sweden. But that did not stop Anderson from visiting him. Apparently Julian denies of the accusations. That can only be verified by time. Let's hope he is what he claims.
[ CAPTION: Pamela Anderson and her rumored boyfriend, Julian Assan ]
[ SOURCE: E! Online ]
In October 2016, the hot mom of two was pictured visiting Assange for the first time. It was followed by several other visitations. So what to make of that? They were most certainly hitting off as a couple. In addition to her visitations, she also mentioned about it on her page.
Not only did she mention, but she has described every detail on her website. Anderson had met Assange through her designer friend Vivienne Westwood. Since she has been meeting him. Anderson told People that she found him funny, sensitive, romantic, surprisingly resourceful.
"Julian is trying to free the world by educating it. It is a romantic struggle — I love him for this."
On the other hand, Assange also had similar opinions of her. He described her as an attractive person with an attractive personality.
[ CAPTION: Pamela Anderson ]
[ SOURCE: the Sun ]
Moreover, the No Rules star even admitted in May that she loved Assange and further clarified by telling that "everybody deserved to be loved." However, Anderson did not clearly say that she loved him as a friend or a lover.
Although Pam and Adil did go through a short break up in between, their relationship is sailing smoothly at present. The short break up was due to her lover's jealousy over her relationship with Julian.
So Who is Anderson Dating Currently?
So with rumors of being with two different personalities, who has she decided to give her heart to? Who are you rooting for? The young footballer? Or the alleged rapist?
She is definitely not dating both of them. Months after the rumors, Anderson finally decided to clear the air. The invisible girl from the Superhero movie revealed that she is in fact friends with Julian Assange.
[ CAPTION: Pam and Adil at La Gioa ]
[ SOURCE: people ]
When asked to clarify her relationship with him, the original "Tool Time" girl explained to Good Morning Britain that she already had romance in her life.
"I love him, but I have a romantic partner."
So that leaves the hunky soccer player. Yes, the hottie philanthropist is currently dating Adil Rami according to the Sun.
Pamela the Last One to Pose Nude For Playboy
During her modeling career, Pam landed several times on the Cover of Playboy making her the model that has appeared on the mag than any other model. She was the last model to pose nude on the mag 's January/February issue.
Even now, the magic of Pamela still has not rubbed off, she is still stealing the show wherever she appears. If you remember she appeared in the tenth season of Dancing with the Stars. Damian Whitewood accompanied her as a partner. The show reached a different level just with her presence.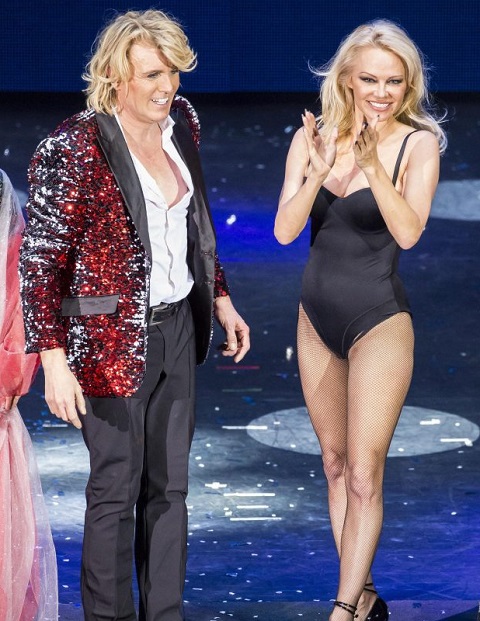 [ CAPTION: Pamela Anderson showing off her figure at a magic show ]
[ SOURCE: the Sun ]
Recently she also appeared on the magic show as a magician's assistant in Germany. And boy, she looked hot as hell in a plunging black leotard. Besides, she also posed for Coco De Mers new Icon collection. Looking at her figures, you will forget that she is fifty and a mum of two.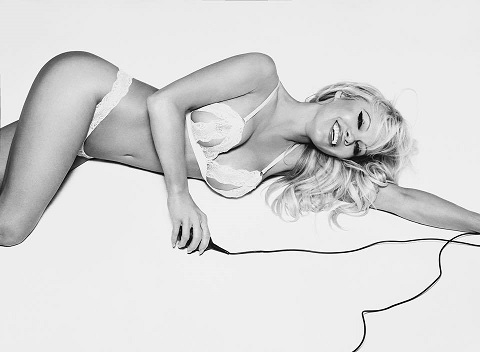 [ CAPTION: Pam for Coco De Mer ]
[ SOURCE: Facebook ]
Pam flaunted her incredible figure which keeps you wondering how in the world is she able to maintain her figure. Besides being a model and an actress, she is also an active social worker, environmentalist and animal activists. But that does not seem like new news as almost all celebrities are philanthropists.
In fact, the Blonde and Blonder star established The Pamela Anderson Foundation in 2014 with an aim to help with the environmental issues and animal rights.
Anderson who gained fame being the CoverGirl for the Playboy magazine has been earlier married to Tommy Lee, Kid Rock, and Rick Solomon.