With a very beautiful face and cute smile, Amber Heard has already attracted millions of fans. She is an American actress and appeared in the movies like Friday Night Lights, All the Boys Love Mandy Lane and in television shows like Hidden Palms.
What might be the first thing that comes to your mind, if you hear Amber Heard is bisexual? The world is now keen to know about the news of being bisexual. Check out more about the related topic. Also, know more about her married life with Johnny Deep.
Amber Heard Coming out as Bisexual would end her Career
It's really quite strange how people react as they come across the people who are bisexual. It's strange to know the change of behavior among the people. In the same content, Amber Heard revealed that her bisexuality would definitely end her movie career.
After she revealed about her sexuality in 2010, Hollywood bosses had a doubt on whether Amber Heard couple play a role of the straight woman. In the "The Economist's Pride Prejudice" even held in New York, she said:
"It did impact my career, it was difficult,"
"It was not easy. I was the only one working in this way, so it was definitely difficult because no one had done it.
She was followed by negative comments all around and everyone expected that her bisexuality will end her career without a doubt. It is said that he had hidden her sexuality previously. However, it takes a lot to reveal own as a gay.
Also See: Where is Lori Anne Allison now? She is the ex-wife of Johnny Depp and still supports him on media.
Amber Heard and Tasya van Ree
Amber Heard was spotted with her girlfriend Tasya van Ree on her 25th birthday. She made the official announcement of her dating life with Tasya van Ree on a special day. She said:
'I personally think that if you deny something or if you hide something, you're inadvertently admitting it's wrong.
'I don't feel like I'm wrong. I don't feel like millions of people are wrong because they love who they love or they were born how they were born.'
As per various sources, Heard started dating Tasya van Ree since August 2008. Tasya van Ree is an American photographer. There were several rumors that the couple was already secretly married. The couple dated for around three years and got separated in November 2011. Now, after Amber Heard's divorce with Johnny Deep, they have been spotted hanging out.
Must Read: Lori Anne Allison Defends Ex-Husband Johnny Depp on Domestic Violence. Is Amber Heard Lying?
Amber Heard and Johnny Deep
Even though she revealed about her bisexuality in 2010, she got married to Johnny deep. The couple got together in Jan 2012 and dated for around a year. The couple got engaged in December 2013 and tied knot on 3rd Feb 2015.
Moreover: Amber Heard is seen at a luxurious hotel after apology video.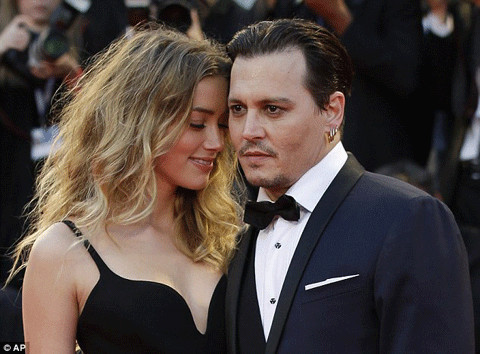 Just after one and half years of their marital life, Amber Heard and Johnny Deep got divorced. The main reason behind the divorce was said to be domestic violence. But Johnny Deep denied it.