The American born actress, Allison Janney, whose net worth is around $4 million, is currently in her late 50's but, is in a relationship with a guy almost 20 years younger than her. Allison Janney dating 20 years younger man has made a huge buzz on the internet.
As we know that almost every celebrity marry at a young age and give birth to a child so fast, so often. Likewise, we also thought Allison to be the same but, it turns out she isn't married. Well, she is in a relationship with someone who would be somewhat same as her children's age. For more information on their relationship details, follow us until the end of this article.
Allison Janney Dating Relationship
As we all know Allison from the famous sitcom Mom, but many of us were unknown about her personal life as she was hiding it from the prying eyes.
But a few years ago, at the 2015 Emmy Awards, the actress showed up with someone hand in hand. Also, in the same award show, after winning the award, the guy gave a big kiss to Allision. This truly shocking thing fired up the internet into who the guy is.
CAPTION: The date 'guy' kissing Allison Janney
SOURCE: Bustle
Well, you might be eager to know who the guy is, don't you? The lucky guy is non-other than the production coordinator Philip Joncas who worked with Allison on The Way Back in 2012 while filming it. The exact start of their relationship is not known, but the first public appearance of the pair was in June 2015 on the Minions Red Carpet.
CAPTION: Allison Janney and Philip Joncas together in Emmy Award
SOURCE: Daily Mail
Although we are a bit confused about the exact time of their start of the relationship, it is obvious that this couple is going serious about each other. Even though the couple's relationship has just been a few years, it looks as if the couple is getting married. Scroll for more on this.
Allison Janney's engagement rumor
Are you a fan of Allison Janney or if you are followers of the Hollywood rumors, then you must know that Allison has stated that she doesn't believe in the marital institution in one of the interviews taken by E! Online.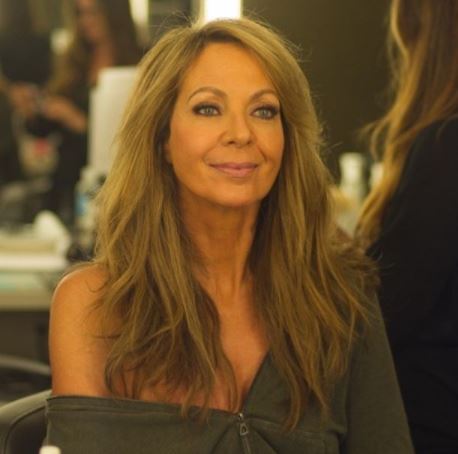 CAPTION: Allison Janney
SOURCE: Instagram
Also, for an interview with Women Health Magazine, Allison said that she used to have a recurring dream that if she married a man and after the ceremony, he turns into a completely different person.
But now her intuition may have changed because of Philip Joncas. We are not completely sure whether the couple had engaged or not but as she wore a diamond ring on her ring finger, it seems questionable.
CAPTION: Allison Janney showing a diamond ring on her ring finger
SOURCE: Dailymail
Allison Janney's Past relationship
Well talking about her past relationship, then she is found to be linked in few famous personalities. After our research, we came to know that Allison first dated the American actor Dennis Gagomiros in 1982. But their relationship didn't last long as they broke up in the same year.
CAPTION: Allison Janney with her ex-fiance in red carpet
SOURCE: Zimbio
Not only that but previously she was also engaged to American actor Richard Jenik but just for two years from 2004 to 2006. After that, Philip Joncas is the only person she has been seen with.
Ten Facts about Allison Janney
1. Allison Janney's full name is Allison Brooks Janney.
2. Allison Janney was born on November 19, 1959, and is 58 years old.
3. Allison Janney was born in Boston, Massachusetts, United States.
4. Allison Janney started her professional acting career in 1984.
5. Allison Janney's net worth is around $4 million.
6. Allison Janney is currently dating Philip Joncas.
7. Allison Janney is twenty years older than her boyfriend Philip Joncas.
8. Allison Janney previously dated Dennis Gagomiros in 1982.
9. Allison Janney was engaged to Richard Jenik in 2004.
10. Allison Janney is 6 feet tall.