Marriages are like fingerprints; each one is different, and each one is beautiful. We have covered news on several celebrities and about their married life. Today, it's all about an American most dedicated gymnast Alicia Sacramone.
Alicia Marie Quinn aka Alicia Sacramone is living happily after years of marriage with her husband, Brady Quinn. So how's their married life going? Do they have any Children?
Alicia Sacramone's Marriage with Husband
It would be a dream come true to marry a person we love. Alicia and her husband Brady Quinn's love life is going strong since ten years. As Sacramone is one of the renowned faces in US sports, it's pretty obvious that her personality will be a public interest for all,
Since 2007, this pair has been in each other's lives, but they used to date keeping it away from the media.
Alicia Sacramone at 2012 U.S. Olympic, source: Pinterest
In 2009, Alicia and Brady came out in public as a couple which shocked Alicia's fans. And if you don't know who Brady is, he's a former NFL quarterback. Sports couple, eh!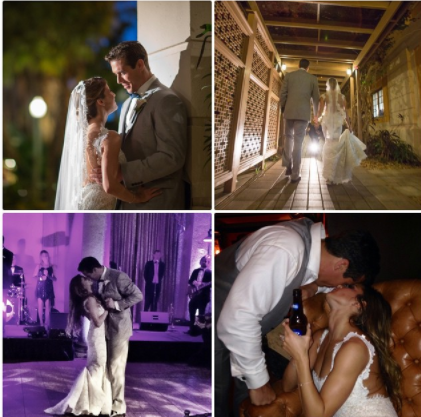 Alicia Sacraomone's wedding day with husband Brady Quinn, source: celebrity facts
In 2013, they chose to flash the news about them getting hitched and got engaged in August of the same year. And, one year after, this adorable couple tied the knot.
Alicia Sacramone with her husband Brady Quinn, source: NESN.com
The wedding was only attended by close friends and family at the Biltmore Hotel in Coral Gables, Florida. Just a few pictures were captured from their wedding as they tried to under wrap their marriage.
Brady Quinn, Alicia Sacramone Wedding, source: JSPStudio
The groom looked astonishing with a gray suit for the big day while the bride Alicia wore a beautiful lace gown with minimal jewelry.
After three years of marriage, their married life is going strong as always. We wish for the blessing for their family.
Alicia Sacramone blessed with a daughter
Alicia had more reasons to smile in 2016 as the couple announced that they are welcoming their first and the only child. As soon this news broke out, Brad and Alicia made headlines.
In February 2016, they were blessed with a beautiful daughter named Sloan Scoot Quinn.
As soon as the baby was born, both of them took no time to announce this wonderful news via Instagram.
If we take a quick look at Alicia's Instagram, you can notice Alicia is one caring mother. Most of her posts are filled with the cute pictures of her daughter.