Alexandra Maria Lara and husband Sam Riley is Living Happily with their Son; Detail Here
Alexandra Maria Lara and husband Sam Riley is Living Happily with their Son; Detail Here
A Romanian-German actress, Alexandra Maria Lara who has appeared in several movies like Downfall, Control Rush, Geostorm has married co-actor Sam Riley from the movie Control in 2009 and still leading a happy married life.
All of us are interested in the life of celebrities but very few of us show interest in the life of the struggling actors? In the same manner, we are going to talk about the marital life of the struggling actor Alexandra Maria Lara and her husband, Sam Riley. Stay tuned to know all about how it is going and also know about their children.
Alexandra Maria Lara still leading a happily married life with husband Sam Riley
Love, trust, and support glue the life of two lovebirds together. It's the essential ingredient to hold the relationships and make it stronger. Likewise, Alexandra and Sam sharing a mutual understanding and trust in their relationship have still kept them together.
[ CAPTION: Alexandra Maria and Sam Riley ]
[ SOURCE: ]
As both being actors, they usually have to work with different people for a long time. But till now, there are no any rumors regarding the extra love affairs of this couple. Such a thing in the Hollywood Industry is hard to hear as most of the other pairs split due to the very reason. They are very supportive of each other in personal as well as professional life.
[ CAPTION: Sam Riley and Alexandra Lara ]
[ SOURCE: ]
Even we have tried to look at the lives of the stars in the social media, but we couldn't find them using such platforms. What we only found was their fan pages. Despite working with big celebs, they have maintained to keep their personal life in check.
Alexandra Maria Lara Married Sam Riley
Well, to start from the top, Lara and Riley met while they were shooting for the movie, Control in 2007. Since, their role together in the movie, they had been continuously talking and going on dates. After a year, Sam Riley proposed Alexandra Lara on the eve of Christmas (24th December), 2008. So what did Lara answer?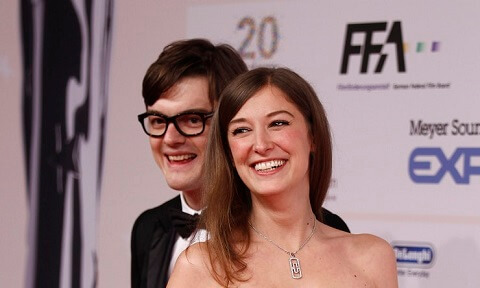 [ CAPTION: Sam Riley and Alexandra Maria Lara at a red carpet even ]
[ SOURCE: Bustle ]
Of course, she answered with a big YES! The couple got married in August 2009 in front of close friends and family members. The duo is still in a love relationship and has given birth to a son, Ben in January 2014.
[ CAPTION: Alexandra Maria and Sam Riley kissing ]
[ SOURCE: Bustle ]
These days the couple is living in Berlin, Germany. Lara and Riley seem to be happy and has no rumors of extramarital affairs or separation.