Turkish Prime minister Ahmet Davutoglu is set to back down from his position. The most reasonable answer would be his disagreement in the view of government system with the President Recep Tayyip Erdo?an hailed as the ruthless President of Turkey.
Despite this claim, Mr. Davutogolo has stated that he had pledged his loyalty to President Erdogan.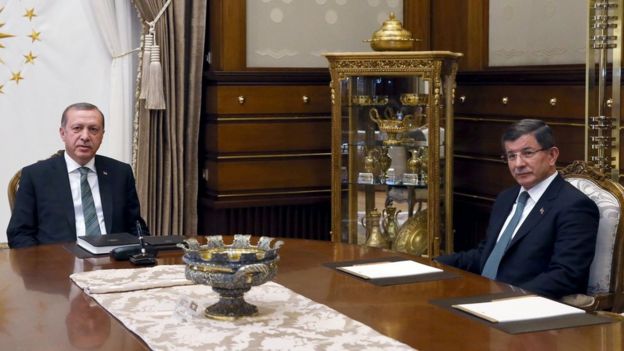 Source: http://www.bbc.com/
Mr. Davutogolo and Mr. Erdogan sat for a meeting on Wednesday, it seems they could get to the agreement.
Erdogan had handpicked Davotogolo to be his successor as the head of the AK Party but it seems their belief on the exsting system and how it should turn out contradicted a lot. Erdogan wanted to move towards the Presidential system of Government and it seems Davutoglu greatly disapproved of this decision. They believe that someone who is close to Erdogan and his ideals is more suitable for the job.
"I came to the conclusion a change in leader of the party and the Prime Ministerial position would serve a better purpose. This must be carried out in a peaceful way, keeping the integrity of the party.", stated Ahmet Davutoglu.
Turkey cannot afford any internal conflict as they are already facing instability and escalating conflict with the rebels of the Kurdistan Workers' Party (PKK), attacks by the so-called Islamic State, and an influx of migrants and refugees.
The question remains: Who will be Davutogolo's successor? And the nominees are: Transport Minister Binali Yildirim and Energy Minister Berat Albayrak. The latter is also the president's son-in-law. The leader will be chosen when the congress meets on 22nd May 2016. Whoever the successor is, they better get towards eradicating the national problems.