The Gogglebox star, Isabelle Silbery who appears on the show alongside her mother and grandmother was married to husband Craig Silbery. But, now they are not together anymore after a 5-years' long marital relationship.
She was a happily married woman but, that did not last for half a decade. Something went wrong in their relationship, and now, the couple is not together. Scroll down to know all about her children and current relationship details.
Isabelle Silbery Married life and divorce with Craig Silbery
Isabella married Craig Silbery in 2011 in a beach-side ceremony attended by her sofa buddies, Kerry and Emily. The couple shares a son together.
[ CAPTION: Isabella Silbery with her ex-husband Craig Silbery ]
[ SOURCE: Herald Sun ]
In an interview with some tabloids, Isabella stated that her husband proposed her in 2009. Craig proposed her at the park with the help of his greyhound, Brian. Craig proposed her with a ring tied to Brian's collar where they first met each other.
[ CAPTION: Isabelle Silbery ]
Unluckily, the couple decided to get separated after being together for five years in 2016. However, the reason for their split has not been revealed. Maybe both of them don't want to publicize it.
Isabelle Silbery's son
Mother and father are equally important for any child. But, a mother is more important to any child rather than a father. As such, Isabelle Silbery's child after her divorce with Craig has been living with his mother.
[ CAPTION: Isabelle Silbery with her son ]
[ SOURCE: Instagram ]
[ CAPTION: Isabelle Silbery with her son ]
[ SOURCE: Instagram ]
Despite Isabelle's busy schedule in her work, she has managed to give quality time to her son. In her social media, we can see her taking a good care of her son.
What is the current relationship status of Isabelle Silbery?
After the long research, we came to know that, these days Isabelle Silbery is found to link with a guy, Benjamin Norris. In her Instagram post, we can see a picture of her with a guy in a movie premiere with a caption where she has said "Movie premiere with my bf."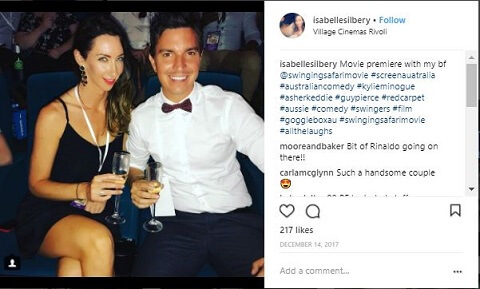 [ CAPTION: Isabelle Silbery with her bf a movie premiere ]
[ SOURCE: Instagram ]
Well, it cannot be sure if 'bf' really stands for 'boyfriend' or 'best friend'. However, if we look into the Instagram account of Benjamin, then we can see a picture of him with a new girl. The post says that the woman is his new girlfriend.
[ CAPTION: Benjamin Norris with his new girlfriend ]
[ SOURCE: Instagram ]
It is such a confusing matter to decide their relationship status. Divorce is hard for both parties. Both Isabelle and Craig had had difficulties but, it is better for both to move on.