Adam Levine is an American singer and songwriter famous for various love songs like, "One more night", "She will be loved", "What lovers do", "This love" and many others. We know that he has sung numerous love songs, so what do you think is the inspiration for these songs? Are the songs out of a tragic event he went through or are they out of real-life joy he is experiencing out of love?
Adam Levine is married to a Namibian model Behati Prinsloo for a long time now. They are living happily with their children. Know everything in detail about their married life as well as their children here on this article.
Behati Prinsloo and Adam Levine married
Adam Levine met Behati Prinsloo somewhere around 2012 and they started dating since May 2012. After a year in 2013, they got engaged and similarly on 19th July 2014, they got married. It's already been three years of their marriage but their relationship is still as fresh as the Sunday morning. Adam keeps on sharing pictures of his wife on social sites.
They seem to have a very cute relationship with each other. The birthday posts, the anniversary wishes, the love they show on social site calling each other "Queen", "Baby", etc reveals that they are extremely happy with each other. They are often seen kissing each other in public as well.
Adam Levine's children
The couple together gave birth to their first child, daughter "Dusty Rose Levine" on 21st September 2016.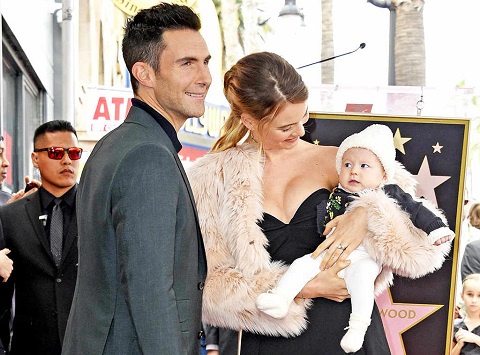 Adam Levine, his wife and their daughter, Source: Enews
She is just a year old. When Adam appeared on the tonight show, he mentioned that both the couple were in 'Battle' over their daughter's first word. On the show he mentioned,
I've been working dada hard. You slip it into everything you say. I'm working super hard on it. My wife is working mama so it's a battle to finish.
Also, read: Behati Prinsloo is having a baby girl and she is extremely happy about it.
Moreover, Adam and Behati announced that they are welcoming their second baby as well. It was confirmed just a month ago and it was said that 'Adam is over the Moon'. They are extremely happy making their current baby the big sister. They keep on sharing about the pregnancy pictures on Instagram and Twitter. Soon the baby will be out the family will be four from three. Best wishes Adam and Behati for the forthcoming bundle of joy.