Whether Rachel Brosnahan, one of the hottest and talented actress, is dating or not, has always been a major subject of curiosity for her fans.
If you don't know her, then you seriously need to watch, The Marvelous Mrs. Maisel, because you are missing out a great actress. So no surprise she got a lot of fans all over the world.
Rachel Brosnahan is Dating Michael Or ...
Her fans already know about her professional life and that she loves dogs like crazy. But do they know about the man in her life? Let's do a double check and test if you really are a fan of her.
Rachel Brosnahan was once romantically linked to the handsome actor, Jason Ralph but she is now married to Michael Zegen. Yes, they were married and have already divorced even. Relax folks! We did not mean in real.
If you have been following Rachel, you should know that she plays Miriam "Midge" Maisel or Mrs. Maisel in the Marvelous series of the same name and her husband, is played by Michael Zegen. So are they dating in real life?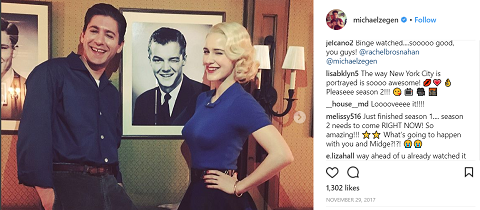 [ CAPTION: Michael and Rachel on the series, The Marvelous Mrs. Ma ]
[ SOURCE: Instagram ]
Nope, not even close. Although co-actors are eventually linked, in this case, they are just fellow actors, no strings attached. One of the favorite former House of Cards star is still in a relationship with her lover, Jason Ralph. And by looking at their relationship, their bond is getting more stronger with time.
[ CAPTION: Rachel as Mrs. Maisel in the series, The Marvelous Mrs. ]
[ SOURCE: PressForm]
However, the duo has not confirmed their relationship but is it really necessary as they say a picture is worth a thousand words. They are always pictured attached to each other, not to mention they both wear a similar couple band on their wedding ring finger.
Are Rachel Brosnahan and Jason Engaged?
Recently Rachel was nominated for Golden Globe Award 2018 for Best Actress for the Amazon's Mrs. Maisel. So guess who was her company? Clearly, the hunk, Jason Ralph and they clearly were not closely modest towards displaying affection for each other publicly.
[ CAPTION: Jason Ralph and his girlfriend, Rachel at the Golden Gl ]
[ SOURCE: eonline ]
When Rachel won the award, Jason seemed happier than her. This is not the first time the couple attended an event together though. They are always seen accompanying each other in almost each and every events and ceremony each appears in.
Like on January 11, Rachel appeared with him at the 23rd Annual Critics' Choice Awards in Santa Monica, California too. Jason even carried her purse at the event. Aww! so sweet of him. He even held onto her at the Amazon's after party.
[ CAPTION: Rachel Brosnahan_s beau, Jason holds her purse at the 23rd Annual Critics' Choice Awards in Santa Monica, California ]
[ SOURCE: Zimbio ]
They sure seem like a couple, very much in love and as mentioned they wear a band on their ring finger. But they have not confirmed if they are engaged or married secretly.
On the contrary, if they are not, the cute couple has also not revealed any plans of getting married in the near future. Nevertheless, they are more than happy with each other's company at the moment.
Now here's an interesting thing you probably have not noticed. If you have gone through Jason's Instagram account, you might know his name is Rasonralph. Wonder why? Why bother to replace his name's initial with letter 'R'. So they are definitely exclusive.
Are They Moving Together?
Once the Finest Hours star was said to be moving together with Jason Ralph but the rumors ended right there. So it might be just people spreading a hoax or something might not be working for them.
Whether they are living together or not, there were never any rumors of either one dating any other co-star or another person. Both suit each other perfectly. Why not? They share the same interest whether it's love for dogs or being animal welfare activists or involving in charity works.
[ CAPTION: Yes lucky dog. ]
[ SOURCE: Instagram ]
Rachel who is outspoken and even politically active even told once that Jason is the man she has desired for and he is the reason for her fame and success. It is true. Jason is seen promoting Mrs. Maisel on his Instagram posts. Here's the proof.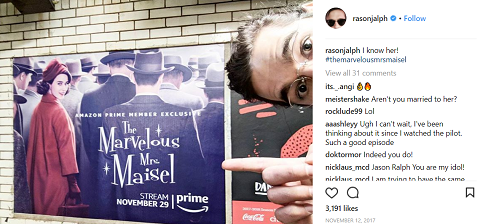 [ CAPTION: Yes you obviously know her ]
[ SOURCE: Instagram ]
So how did they meet? Honestly, we do not know the exact date when they had met but the media speculated the love sparked between them when The Louder Than Bombs star and The Magicians star met in 2015. They were shooting for WGN series, Manhattan at the time.
[ CAPTION: Rachel and Jason with friends ]
[ SOURCE: Instagram ]
Although they did not fall immediately for each other, with time infatuation for each other grew into love and now it has been two years and they are inseparable. They really get along each other well, that's for sure.
[ CAPTION: Rachel and Jason, watched the Woodsman movie together ]
[ SOURCE: Instagram ]
And there's like less than a percent possibility that they will break up given their charismatic chemistry and love showcased by each other.
Finally leaving you with an interesting fact. Do you know Kate Spade, designer of the handbag of her name? Rachel and Kate are related, Rachel calls her aunt.