Actress Abigail Hawk married Bryan Spies; Know their Married Life and Children
Actress Abigail Hawk married Bryan Spies; Know their Married Life and Children
33 years old American actress Abigail Hawk married the former employee at Thomas Keller's Bouchon Bakery in New York, and FDNY, Bryan Spies in 2009 after seven years of dating. The couple tied the knot after a month of engagement and has a son together.
Abigail is also known for her appearance in series BlueBlood where she performed brilliantly. Leaving Abigail Hawk's professional career aside, we will be discussing her personal life including her married life, children, dating history, and relationship affairs.
Abigail Hawk's relationship with her husband Bryan Spies
Abigail and Bryan started dating in the middle of 2000. After dating for a couple of years Hawk and Bryan tied the knot in 2009 in Rosewell and the reception was held in Davenport. Their close friends and the family members attended the ceremony.
Also Read: How Much Money Has The Hollywood Actress Abigail Hawk Estimated for her Net Worth? Career, Awards
CAPTION: Abigail Hawk with her husband Bryan Spies
SOURCE: actorz.ru
Both Abigail and Bryan are a secret-keeping person. The facts and the information about their personal life are bottled up.
However, there are no rumors and controversies about the dissatisfaction between the couple in the media. Also, there are no rumors about the divorce so we can assume that the couple is happy together.
Despite her secret life, Abigail shared a photo via her Instagram with husband Bryan, saying he is the only one.
CAPTION: Abigail with her husband Bryan
SOURCE: Instagram
Abigail shared her feeling towards her love and a husband wishing her spouse a very Happy Valentine Day. The couple has a long-term relationship since 2000. And not having any rumors is a good example of love.
Abigail's children and relationship
Abigail and husband Bryan are blessed with a child. Abigail gave birth to a baby boy in, 2013, but the couple hasn't revealed their son's name, not every celebrity like to share each and every info to the public like Kardashians. The couple has kept their personal life very secret but looks happy together.
However, Abigail looks happy with her son and husband. Recently, Abigail via her Instagram shared a photo with the neckless, that was gifted by her only son and expressed her happiness. She further added her son bought the neckless with his own earning.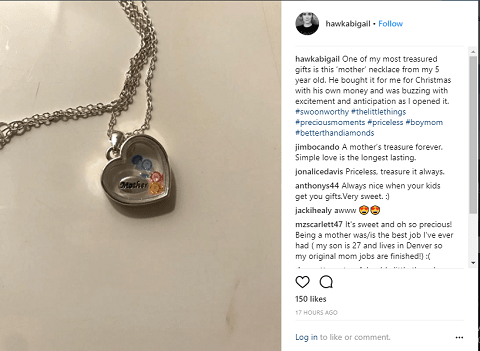 CAPTION: Abigail's son gifted her a neckless
SOURCE: Instagram
The photo obviously shows the love of a five years old boy towards his mother as the baby boy was very excited when her mother opened the Christmas gift. The neckless includes the word Mother which is very touching.
Hawk seems to be enjoying her family life as she recently shared a photo via Instagram. It looks like she is giving her time and good care to her son.
CAPTION: Abigail's family time, playing cards
SOURCE: Instagram
Abigail shared that she is playing cards with her son. We can clearly assume that the relation between the mother and son as well as her family is full of happiness and smooth.